Dear Friend,
During the last two weeks of the legislature's "Spring Break", I have been privileged to spend quality time attending events and hearing from my constituents.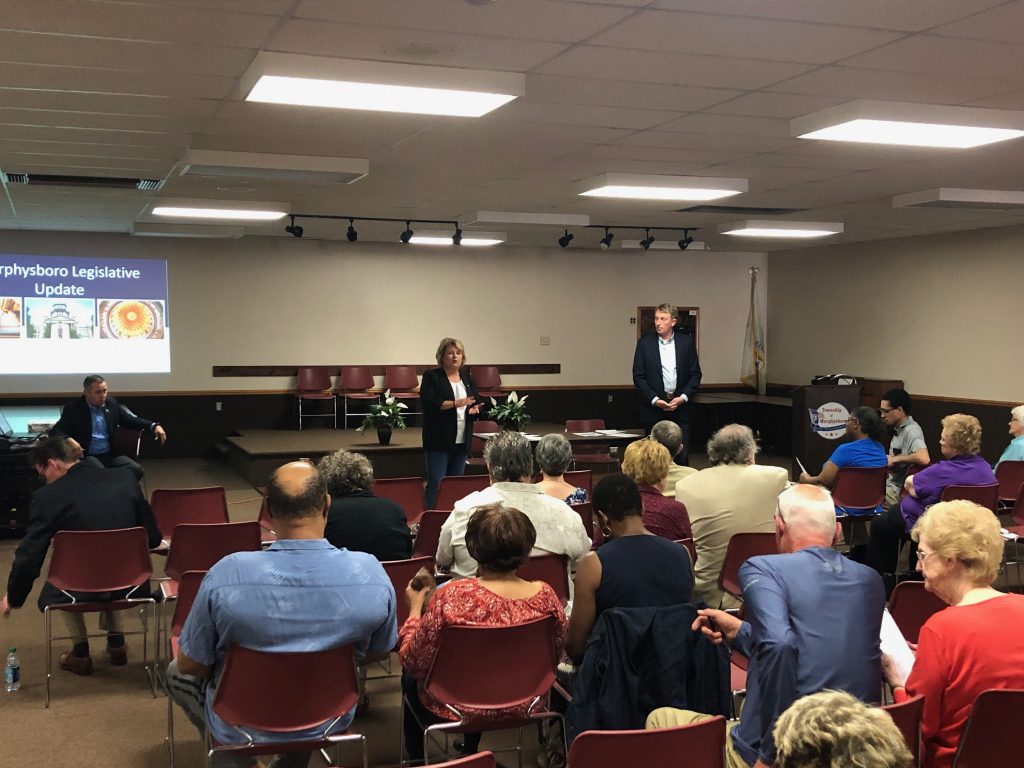 This past Monday, I joined State Representative Terri Bryant for a Town Hall meeting in Murphysboro. Rep. Bryant's 115th district, and my 118th district share parts of Jackson and Union Counties. Our districts also come together on the campus of Southern Illinois University.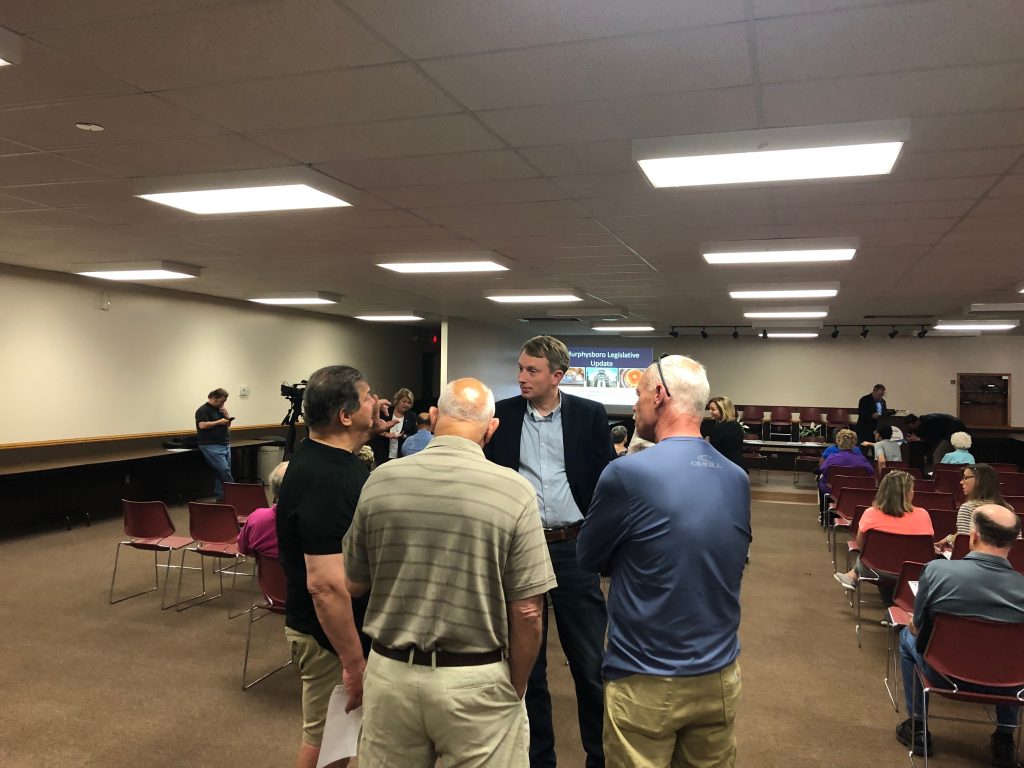 I want to thank all the residents that came out to have their voices heard. A representative from Americans for Prosperity was on hand to provide a presentation on Governor Pritzker's plan to raise income taxes via a progressive or graduated income tax.
For the record, and for any one that may still have questions about my stance on the Governor's plan to raise taxes, let me say this: I will be VOTING NO on Governor Pritzker's progressive income tax hike.
In fact, two months ago I signed on to co-sponsor HR 153, which states my total opposition to the Governor's plan to raise taxes.
The legislature has much work to do before the scheduled adjournment date of May 31st. By my estimation, here are the major items left to address:
The Governor's proposed Constitutional Amendment to institute a progressive income tax (SJRCA 1)
There is also the matter of addressing the Governor's proposals to raise or create 7 different sales taxes. These include plans to raise taxes on plastic bags, insurance plans, online betting, e-cigarettes, and cigarettes
Vote on the legalization of cannabis for adult recreational use
A capital infrastructure plan to rebuild roads, bridges, schools, and water systems
Pass a balanced budget that spends more than 36.5 billion dollars
As legislation continues to move, I will use this space to keep you informed on all the happenings in Springfield. Thank you for your continued readership and for using every mechanism available to you to contact your legislators to have your opinions known on critical issues.
Quick Shots – Out and About in Southern Illinois
It was my honor to again serve as master of ceremonies for the Massac County Academic Awards Ceremony sponsored by the Metropolis Kiwanis and Rotary Clubs! In total, 11 academic organizations at Joppa and Massac County High Schools were recognized, and 16 scholarships totaling $28,400 were awarded. Thank you to everyone who made the event a success!
Legislators Tour SIH Cancer Institute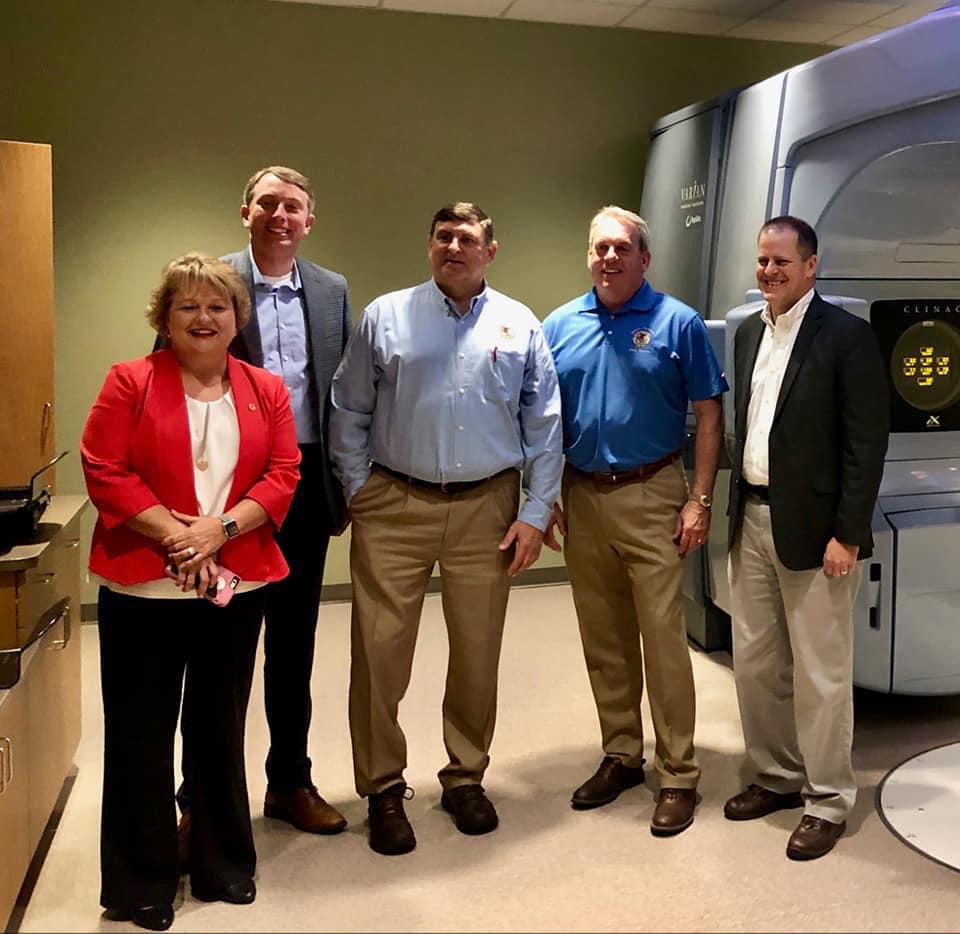 Rep. Windhorst Honors the Life of Marion Mayor Bob Butler
Metropolis….State Representative Patrick Windhorst (R-Metropolis) issued the following statement on Monday after news of the passing of former Marion Mayor Bob Butler.

"I was saddened to learn of the passing of long time Marion Mayor Bob Butler this morning. Mayor Butler epitomizes the word public servant. He gave more than 54 years of dedicated service to the city of Marion and to the people he represented. Despite the fact that he was growing in age, the world around us changed dramatically during the time Mayor Butler was in office. But, Mayor Butler maintained an incredible level of energy well into his 80s and early 90s. His ability to implement new strategies, and adapt to technological to try to build a better city of Marion is part of the reason the city is an economic driver in the region. Today, Southern Illinois has lost a friend, a neighbor and dedicated public servant. I wish the very best to Mayor Butler's family and to the people of the city of Marion on this day of reflection and celebration of Mayor Butler's life and contributions."
Traveling Office Hours Series Continues!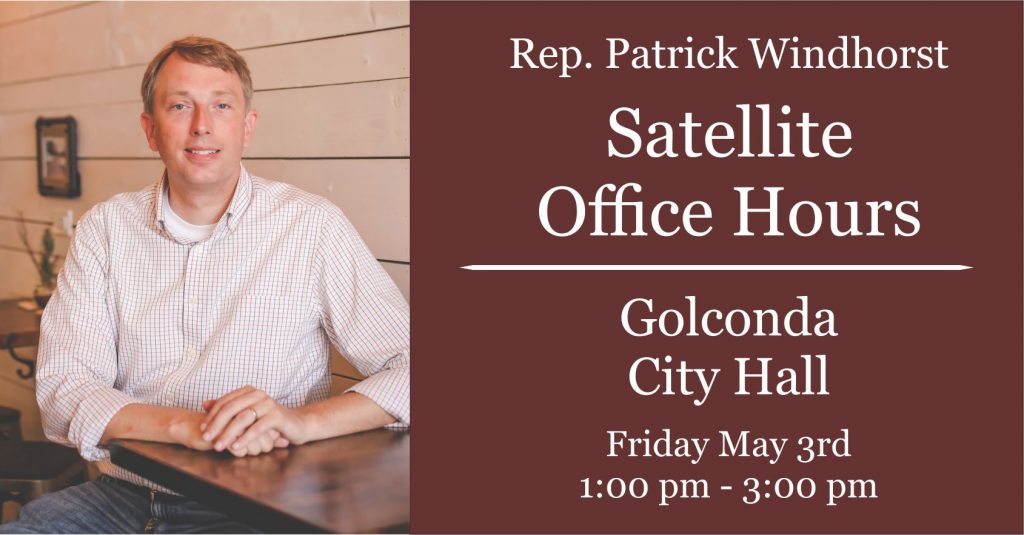 Stay Connected!
My office in Harrisburg is located at 2 N. Vine, Suite 5A and is open from 8:30 to 4:30 Monday through Friday. The House will return to action on Tuesday, April 30th.