Dear Friend,
This week's edition of the Windhorst Weekly covers information on flood reporting, safe ways to handle this extraordinary heat wave, next week's Senior Citizens health fair in Carbondale, and the coming end of my first-annual summer reading club. Stay cool this weekend, and let's get right to it!
PRESS RELEASE: Windhorst Joins IEMA in Urging Residents to Report Flood Damage

Metropolis….State Rep. Patrick Windhorst (R-Metropolis) is urging local residents impacted by recent flooding to make sure to report any flood damages to local or state officials. Windhorst says the Illinois Department of Emergency Management released information on Tuesday to point flooding victims where they can go to make such reports.
"IEMA is working to gather flood damage reports ahead of a July 22 deadline," Windhorst said. "In order for Illinois to receive federal disaster declaration funding, the total amount of damage must be more than $19 million dollars. That means, every bit of damage, whether it be $200 or $2000 should be reported to ensure Illinois receives maximum assistance."
Residents that have experienced flood damage on their property can contact their county's emergency management agency, or can visit
http://www.illinois.gov/2019Floods for more information.
Residents can also report flood damage by visiting
https://www2.illinois.gov/sites/2019Floods/Pages/ReportDamage.aspx
STAYING COOL DURING THE HEATWAVE
As you have probably been able to feel, the entire state of Illinois is under either a heat advisory or an excessive heat warning for the next couple of days. It is important that local residents take steps to protect themselves and those around them from these dangerous weather conditions.

The state of Illinois has established a series of cooling centers in facilities around the state. To find the cooling center in your area, visit www.keepcool.illinois.gov.
Here are some important tips for safety in the kind of
extreme heat Illinois is dealing with this summer:
NEVER leave a child or a pet in a hot car, and warn children about playing in parked cars.

Avoid strenuous outdoor activity, especially during the hottest hours of the day. If you must work outside, wear sunscreen, take frequent water breaks and cool down in the shade as much as possible
Check on your neighbors, particularly the elderly and those without air conditioning.
Know the signs of heat exhaustion and what to do:
Wear light weight, loose-fitting clothing and drink plenty of fluids
Make sure your outdoor pets have plenty of cool water to drink

Visit www.weather.gov/heat for more information from the National Weather Service on staying safe in extreme heat.
https://www2.illinois.gov/…/K…/SitePages/CoolingCenters.aspx
PRESS RELEASE: Southern Illinois Legislators to Host Free Carbondale Senior Citizens Health Fair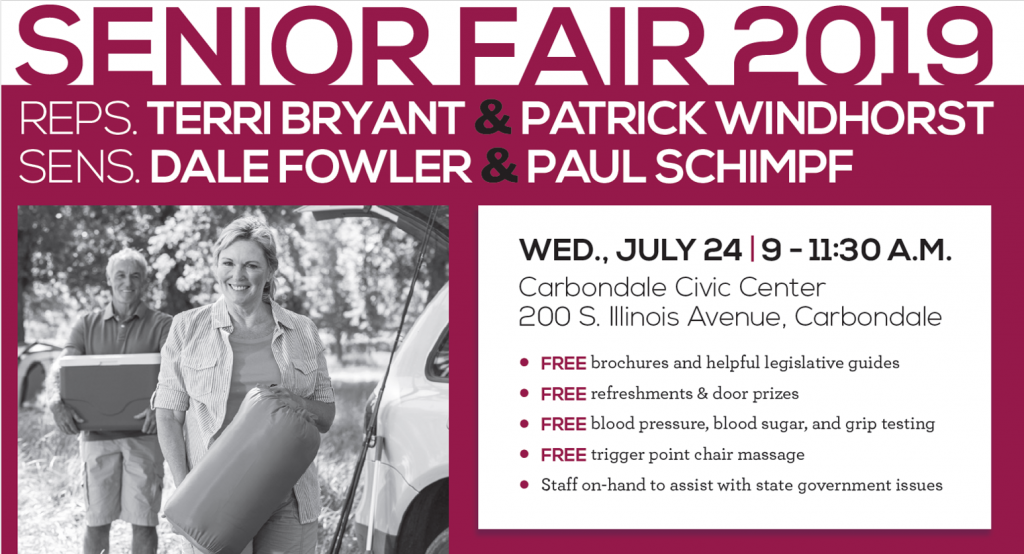 Carbondale….Four representatives of Southern Illinois' state legislative delegation will join together in Carbondale to host a free senior citizens health and wellness fair on July 24 from 9:00 a.m. – 11:00 a.m. at the Carbondale Civic Center. Members of the public and the media are invited to attend.
What: Please come to this year's FREE senior fair to receive helpful guides, literature and other resources from a variety of state, county and local government agencies. General Assembly staff members will be on-hand to assist constituents with their state government concerns. Attendees are encouraged to sign in for a chance to win a door prize. FREE health screenings will be offered, and attendees can sign-up for FREE smoke detectors. Complimentary refreshments will be served.
When: Wednesday July 24, 2019 from 9-11 A.M.

Where: Carbondale Civic Center – 200 S. Illinois Avenue – Carbondale, IL
####
SUMMER READING CLUB – DEADLINE WEDNESDAY JULY 31st!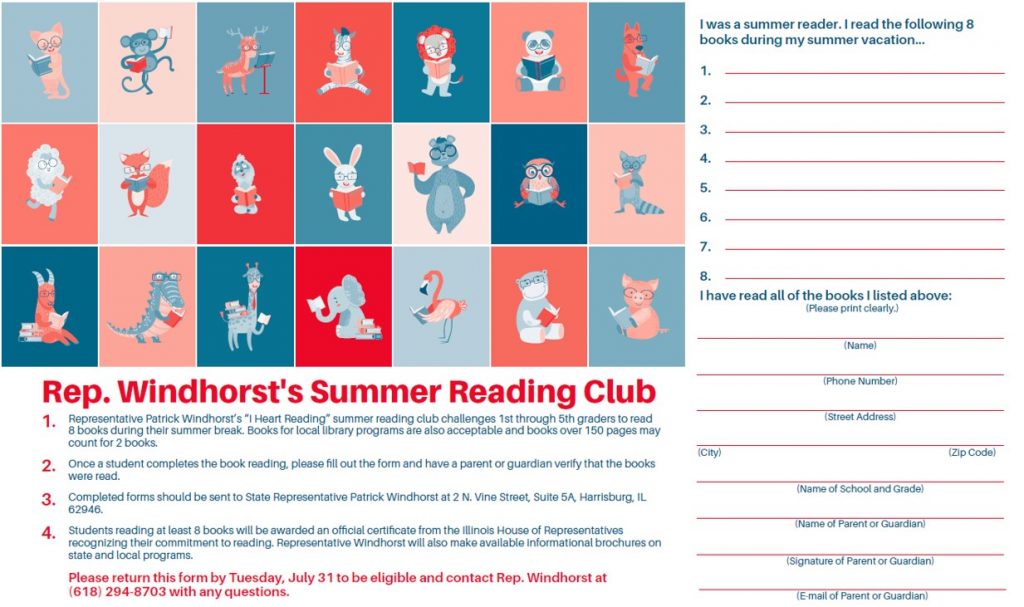 Stay Connected!
My office in Harrisburg is open Monday through Friday 8:30-4:30. You can reach me by phone at 618-294-8703 or by emailing windhorst@ILHousegop.org.
You can sign up for my weekly newsletter, "The Windhorst Weekly" by CLICKING HERE!