Metropolis….State Representative Patrick Windhorst (R-Metropolis) has been appointed to serve on the recently created Joint Commission on Ethics and Lobbying Reform. The appointment comes on the heels of Rep. Windhorst's recent legislative sponsorship of numerous pieces of legislation aimed at strengthening Illinois' lax ethics laws.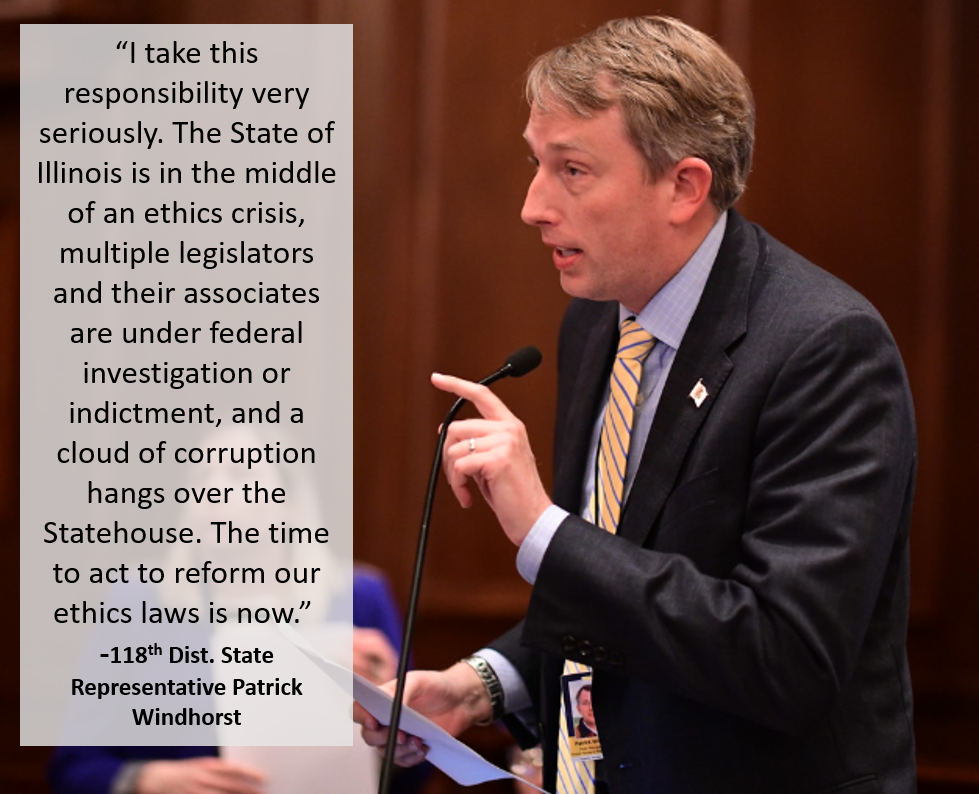 "The Joint Commission on Ethics and Lobbying Reform was created during the Veto Session via passage of HJR 93, which I supported," Windhorst said. "I take this responsibility very seriously. The State of Illinois is in the middle of an ethics crisis, multiple legislators and their associates are under federal investigation or indictment, and a cloud of corruption hangs over the Statehouse. The time to act to reform our ethics laws is now." 
For months, House Republicans have held press conferences, and issued press releases and joint op-eds to call for the passage of their ethics package. Windhorst is co-sponsoring legislation that would ban legislators from serving as lobbyists to municipal governments, institute a two-year revolving door ban on legislators serving as lobbyists, and tighter regulations on statements of economic interest and lobbyist activity disclosures.
"The legislative package that I'm sponsoring are measures that can and should be voted on as soon as lawmakers return to Springfield in January," Windhorst said. "Illinois has a long, well-documented, and dubious history of public corruption. As a member of the Joint Commission on Ethics and Lobbying Reform, I will study current law and work with my colleagues to make legislative recommendations that will serve as sufficient deterrents for politicians that are thinking about engaging in self-dealing. I look forward to getting to work on passing meaningful ethics reforms into law and restoring faith and trust in the General Assembly and Illinois government."
####