SPRINGFIELD…. State Representative Patrick Windhorst (R-Metropolis) says he hopes legislative action will follow high arching rhetoric following Governor JB Pritzker's 2nd State of the State Address before a joint Session of the Illinois legislature on Wednesday.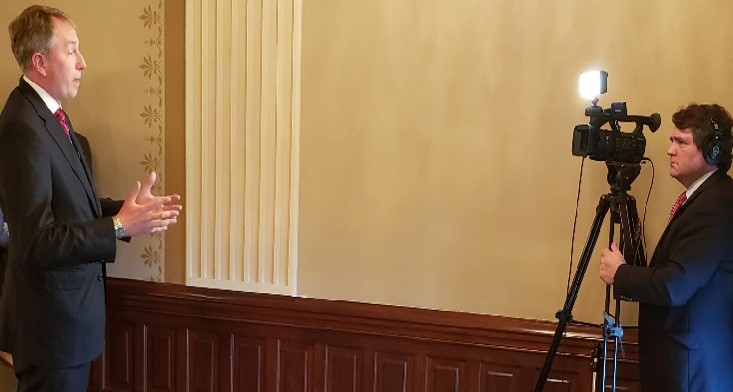 "The Governor and I do not exactly see eye to eye on several political issues," Windhorst said. "But, I was encouraged to hear him touch on a couple of legislative items that I believe should be the major focus of the 2020 spring legislative Session," Windhorst said. "I would like to see this Session focus on reforming ethics laws to stamp out corruption, find solutions to provide our citizens with property tax relief, and change the way legislative maps are drawn to make the process more fair and equitable."
Windhorst says a recent uptick in federal investigative activity provides the legislature with its greatest impetus so far to make serious ethics reforms a top priority.
"The investigations, raids, arrests, indictments, and guilty pleas that have happened in the last year have shaken the Capitol dome to its core, and rightly so," Windhorst said. "House Republicans have sponsored more than a dozen corruption-focused bills and the Governor used his State of the State platform to promise movement on ethics reforms. This is a position that I hope he will continue to take as the Session moves along."
Windhorst believes providing property tax relief is essential to ending the mass exodus of citizens and businesses from Illinois to other states with friendlier taxpayer climates.
"Illinois leads the nation in population loss in the last decade," Windhorst said. "Families and seniors are being priced out of their homes, businesses are moving to other states, and we are losing population in part due to high property taxes," Windhorst said. "I believe we must tackle the crushing burden of unfunded mandates and get Springfield off the backs of schools and local government units. The high cost of running local government causes the price of property taxes to go up and causes people to leave the state. Solving this issue and providing relief for our citizens will take bipartisan compromise."
####