Springfield….118th District State Representative Patrick Windhorst says he is disappointed, but not surprised that Democrats in Springfield have muscled through an expedited bill to raise Illinois' minimum wage to $15 per hour.

"They have the votes, unfortunately, to do whatever they want," Windhorst said, referring to super-majority grips held by Democrats in both Chambers of the legislature. "Despite the early rhetoric from Governor Pritzker to work across the aisle, to achieve bipartisan solutions, this week we saw that was just a lot of talk. Ramming through a $15 minimum wage without proper study is likely to have devastating, long-term effects on Southern Illinois' economy."
Windhorst's district shares border territory with both Missouri and Kentucky, states that will have lower minimum wages than Illinois by the time Illinois' six-year increase takes full affect.
"We have to be very concerned in Southern Illinois about where we are going to be able to employ our citizens," Windhorst said. "Profit margins are the only way that small business owners survive. Almost doubling the cost of labor will most certainly have small businesses and big businesses alike looking across our borders for friendlier business climates."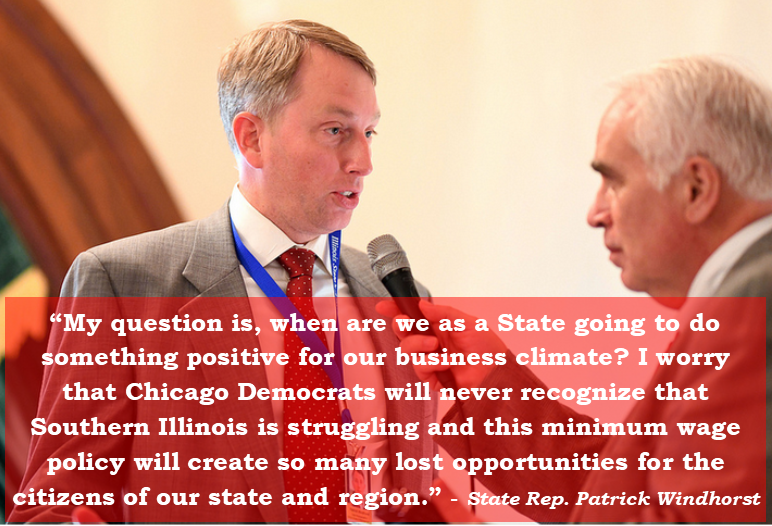 Windhorst pointed to the fact that House Democrat Speaker Michael Madigan spent the previous four years standing in the way of every proposed economic reform by the previous Republican governor.
Windhorst had a final question for the Democrat party that controls every lever of governmental power in Illinois.
"My question is, when are we as a State going to do something positive for our business climate? I worry that Chicago Democrats will never recognize that Southern Illinois is struggling and this minimum wage policy will create so many lost opportunities for the citizens of our state and region."
####