Dear Friend,
Since taking office in January, I have used this newsletter to keep you up to date on the news from the State Capitol and beyond. A recurring theme, especially in the last month or so, has been the lack of urgency by Democrats to take legislative action on the major initiatives of Governor JB Pritzker.
Decisive action on major issues in Springfield usually comes in the last part of the month of May. For months, Democrat leadership in the House has called legislators to Springfield for Session only to quickly adjourn each Session day and send everyone home. The Democrats that control State government have so far this Session taken a lackadaisical approach to legislating, and that has resulted in many big-ticket policy items to deal with during the final hours of the Session.
Before adjourning, the House and Senate must both pass a balanced budget that spends upwards of $37 billion. In recent weeks, I have worked hard to spread the message that Illinois has the money to pass a balanced budget for the coming fiscal year with ZERO tax increases.
Issues awaiting action in the House include radical changes to Illinois' abortion laws, a possible capital infrastructure bill, legalization of recreational marijuana, legalization of sports betting, and the possibility of several sales tax increases to pay for new spending. The list of big policy decisions left for legislators is, to say the least, extremely long…and time is running short. The House adjourned on Friday morning and will take a one-day break before legislators return to Springfield on Sunday afternoon to resume the end of session sprint to the May 31st deadline.
Despite the seeming lack of action on big issues, a few bills did make it through part of the process this week. More on those and more in this week's Windhorst Weekly!
SJRCA 1 and SB 687 – Progressive Income Tax Proposal Moves through House Committee
Senate Joint Resolution Constitutional Amendment 1 passed out of the House Revenue and Finance Committee on a partisan vote of 9-6, with all Republican members voting 'No.' The graduated income tax constitutional amendment now goes to the full House of Representatives for a final vote. If approved by the House, the constitutional amendment would be placed on the November 2020 general election ballot.

On Friday morning, Democrats passed SB 687 out of the House Revenue and Finance Committee, again over strong Republican objections. This legislation would establish the actual graduated income tax rates in Illinois should SJRCA 1 be approved by the voters in 2020.
SB 687 passed out of committee on a partisan vote of 9-6, with all Republicans again voting 'No.' Republican members of the Revenue Committee, including Rep. Margo McDermed, objected to the technical sleight-of-hand used by Democrats to post the measure for a vote in committee, which did not give opponents time to file witness slips in opposition to this massive tax hike.
House Republicans continue to point out that Illinois currently has the revenue necessary to pass a balanced Fiscal Year 2020 budget without higher taxes. On Thursday, I joined my fellow first-term House Republican members for a Capitol press conference to reiterate our opposition to handing the Democrats a "blank check" to raise taxes and increase spending.

PRESS RELEASE: Rep. Windhorst Questions Constitutionality of Sweeping Gun Control Bill

Springfield….During a contentious hearing of the Illinois House Judiciary Criminal Law Committee on Tuesday morning, State Rep. Patrick Windhorst (R-Metropolis) used his time to skewer the House sponsor of SB 1699 Amendment 1 during a line of questioning regarding Constitutionality of certain provisions of the far-reaching legislation. In particular, Windhorst questioned the bill's plan to collect fingerprints from all FOID card applicants.
Rep. Windhorst began his line of questioning this way:
"Are you aware of any other Constitutional rights that require fingerprinting?" Windhorst asked.
The bill's sponsor, Rep. Kathleen Willis (D-Addison), of northern Illinois' DuPage County, simply replied, "No, I am not."
Windhorst then asked Rep. Willis about privacy and security concerns regarding the bill's requirement that the Illinois State Police maintain a database of more than 2.3 million fingerprints for every person that applies for a FOID card.
"Does anyone here know if the State has a database of 2.3 million peoples' fingerprints for any other purpose than for possessing a firearm?" Windhorst asked the assembled Committee panel. "Do you know how large that database is? Any estimate?"
The answer to all of Windhorst's questions was no. A frustrated Windhorst commented following the bill's passage on a 9-6 strict party-line vote, with Windhorst and his Republican colleagues on the Committee casting resounding no votes.
"The bill's sponsor and supporters saw no Constitutional issues with the State of Illinois maintaining a massive statewide database of law-abiding gun owners' fingerprints," Windhorst said. "I continued to push the sponsor to see how far she was willing to go. I asked if she would support a mandatory statewide database of fingerprints for every Illinois citizen. Incredibly, her answer was, 'yes.'"
For his part, Windhorst says he has major doubts that the people of Illinois would ever support, for any reason, a statewide fingerprint database for non-criminal, law-abiding gun owners, or an even more outrageous statewide mandatory fingerprint database for every single Illinois citizen.
"As Massac State's Attorney, and as 118th district State Representative, I raised my hand and sworn an oath to uphold the Constitution of the United States. I will not support legislation that takes direct aim at Constitutional Rights and protections. The Bill of Rights is not a menu from which to pick and choose."
SB 1966 now awaits action on the House Floor with just 9 days to go before the House's scheduled May 31st adjournment.
Summer Reading Program Kicks Off this Month!
This summer, I will be promoting literacy and the importance of reading for enjoyment by hosting my first ever "I Heart Reading" Summer Reading Program! Challenges 1st through 5th graders to read 8 books during their summer break. Books for local library programs are also acceptable and books over 150 pages may count for 2 books.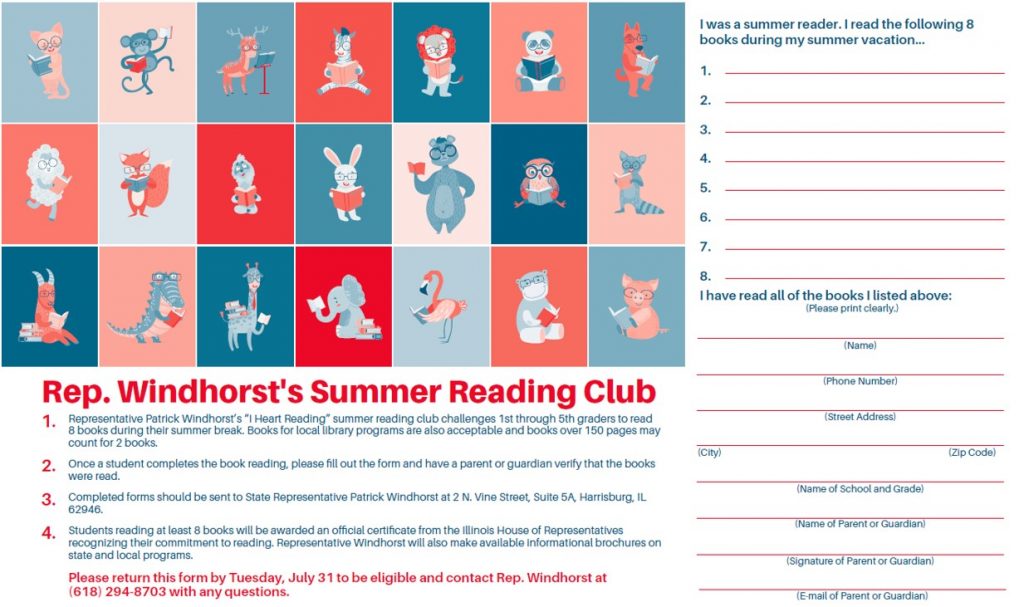 Once a student completes the book reading, please fill out the form and have a parent or guardian verify that the books were read. Completed forms should be sent to State Representative Patrick Windhorst at 2 N. Vine Street, Suite 5A, Harrisburg, IL 62946.
Students reading at least 8 books will be awarded an official certificate from the Illinois House of Representatives recognizing their commitment to reading. Please return this form by Tuesday, July 31 to be eligible and contact Rep. Windhorst at (618) 294-8703 with any questions!
Senior Citizen Health Fair in Carbondale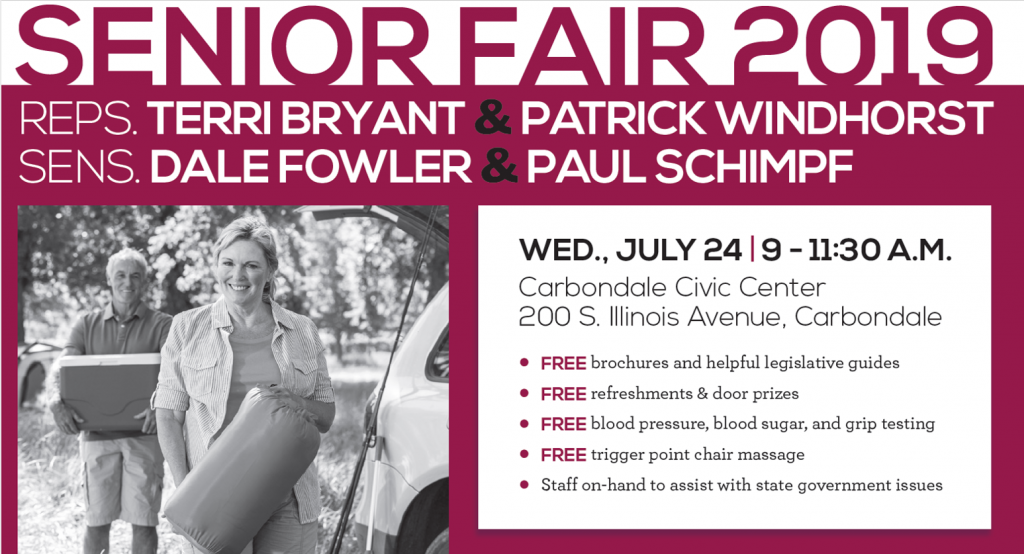 Stay Connected!
Get the Illinois House Republicans' Week in Review emailed directly to your inbox! Sign up today to get a first-hand look at the continuing legislative and fiscal challenges facing policymakers in Springfield.
Please stay tuned as the spring 2019 legislation Session comes to its close on May 31st. My office in Harrisburg is located at 2 N. Vine, Suite 5A and is open -from 8:30 to 4:30 Monday through Friday. You can reach us at 618-294-8703.