Dear Friend,
This weekend Americans will celebrate the Labor Day holiday! Did you know that Labor Day was first made a federal holiday all the way back in 1894? The labor movement started in earnest in the 19th century as a result of American adults and child laborers being exposed to grueling 12-hour shifts, low pay, and unsafe working conditions.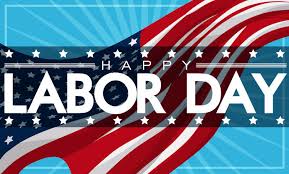 As you enjoy time with family and friends this Labor Day weekend, please keep in mind the laborers that came before us who built America's infrastructure and manufacturing base and paved the way for safe, fair working conditions for everyone. HAPPY LABOR DAY!
Congressman Shimkus and Comptroller Mendoza Tour Flood Damage
This week I joined Senator Fowler, Illinois Comptroller Susana Mendoza and Congressman John Shimkus in touring flood damage in Southern Illinois.
Since the flooding in Southern Illinois began as a result of heavy spring rain, I have used this space to keep you updated on the State's effort to receive federal flood damage assistance via disaster declaration. This week, Governor Pritzker made news by officially requesting a federal disaster declaration over the floods in Illinois that started in February 2019.
The request for individual assistance is for 22 counties and public assistance is for 32 counties. A federal disaster declaration would help local governments, residents, and businesses affected by 2019 flooding. Such a declaration would allow individuals and entities to apply for grants and loans to assist with flood and storm-related expenses and losses.
You can read the Governor's official statement on requesting the federal disaster declaration by clicking here.
L:R Rep. Windhorst, Senator Fowler, and Comptroller Mendoza
Illinois Mining Institute Stages Mine Rescue Simulation in Marion as part of IMI's 2019 Annual Meeting and Expo
The Illinois Mining Institute held its 2019 Annual Meeting and Expo at the Pavilion in Marion on Wednesday. The two-day gathering featured a golf scramble, mine rescue exhibition and competition, and informational seminars, including one that covered the newly signed Illinois Cannabis Regulation and Tax Act.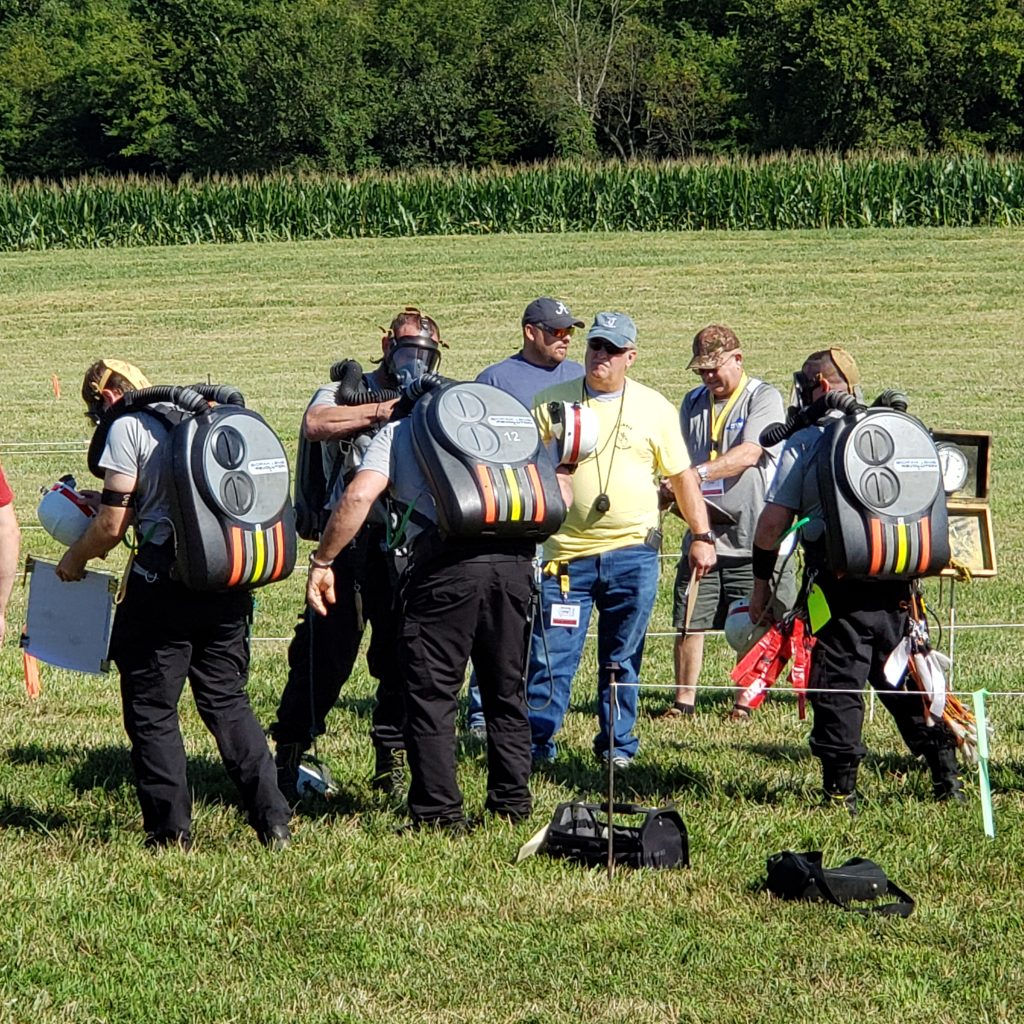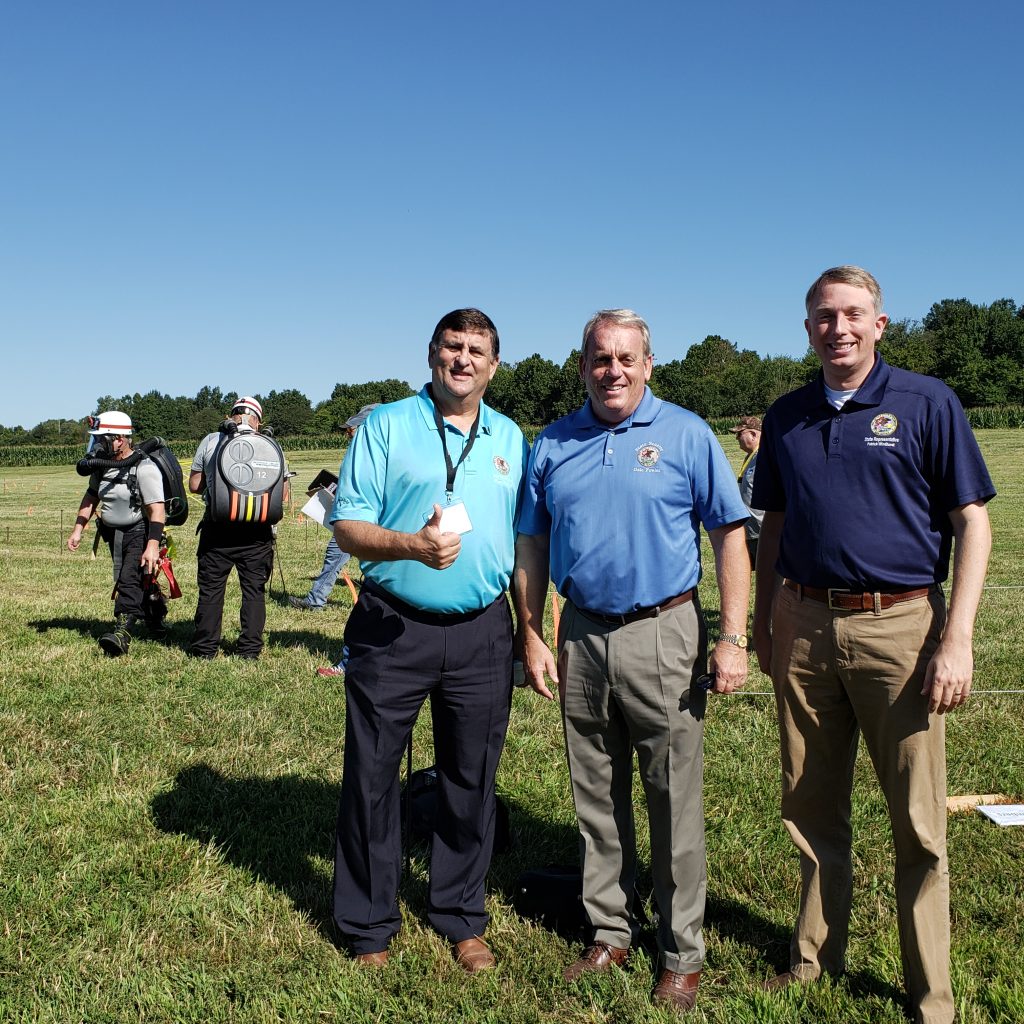 PRESS RELEASE: Windhorst Legislation Creating Task Force to Study Reopening of Tamms Minimum Security Correctional Facility Signed by Governor
Springfield….State Representative Patrick Windhorst (R-Metropolis) announced this week that Governor Pritzker has signed legislation he co-sponsored that creates a task force to study the possible reopening and repurposing of the shuttered Tamms Correctional Center's Minimum Security facility.
"As the chief co-sponsor of HB 210, I want to thank Representative Bryant and Senator Fowler for their leadership and assistance in passing this very important piece of legislation unanimously through both the House and Senate," Windhorst said. "The task force will study the feasibility of repurposing the shuttered Tamms Minimum Security prison into a vocational training facility for the Department of Corrections."
Windhorst says the task force's creation is a vital first-step in determining how best to use the vacant facility.
"Right now the facility has untapped potential," Windhorst said. "If the Task Force determines it to be feasible, I can see a great potential for positive outcomes for repurposing the minimum security facility into a place where incarcerated individuals can learn important life skills that will help them transition back into being a productive member of society. Reopening Tamms minimum security facility could also help to alleviate overcrowding, make our correctional officers safer, and provide good paying jobs to an area that has been economically devastated."
The task force will be made up in the following way: One member will serve as chair, appointed by the Lieutenant Governor, one member of the House of Representatives appointed by the Speaker of the House of Representatives, one member of the House of Representatives appointed by the Minority Leader of the House of Representatives, one member of the Senate appointed by the Senate President, one member of the Senate appointed by the Senate Minority Leader, the Director of Corrections or his or her designee, one member of a labor organization representing a plurality of Department of Corrections employees, one member representing Shawnee Community College appointed by the President of Shawnee Community College, one member representing Southern Illinois University, appointed by the President of Southern Illinois University, the Mayor of Tamms, Illinois, and one member representing Alexander County, appointed by the Chairman of the Alexander County Board.
The Task Force is required to submit its findings to the Governor and the General Assembly on or before December 31, 2020.
You can watch WSIL TV's coverage of this story here!
You can read WSIU Radio's coverage here.
####
Congratulations are in Order at the Massac County Sheriff's Office!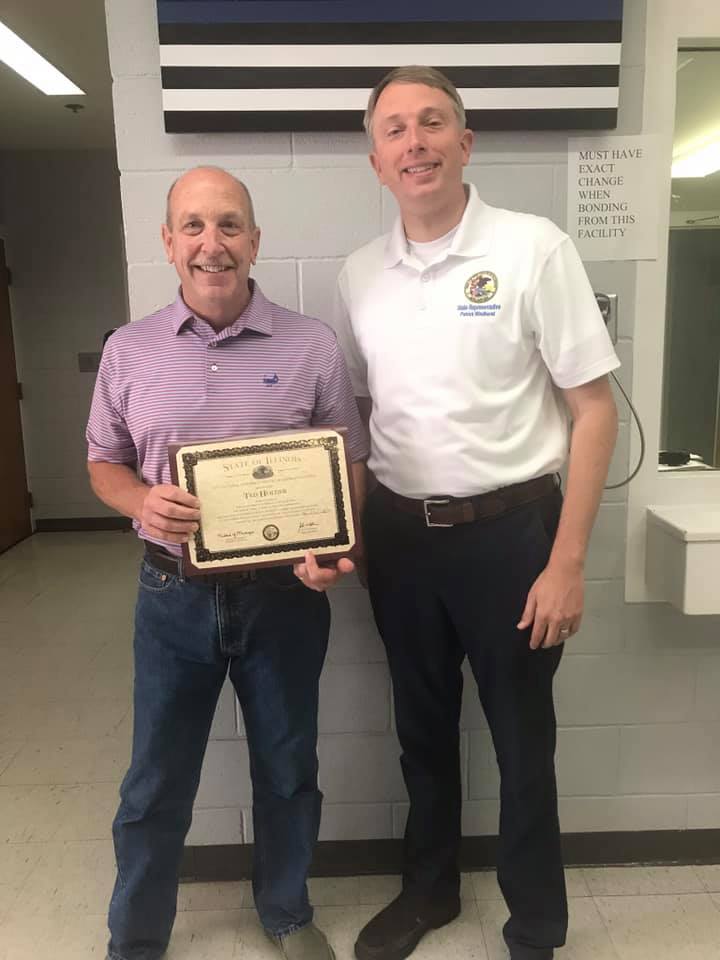 Massac County Sheriff Ted Holder retired today after nine years as sheriff, over 20 years with the department and over 40 years in law enforcement. I was proud to present Sheriff Holder with an official House certificate to mark his well-deserved and hard-earned retirement. Best wishes!
Chad Kaylor Sworn in as New Massac County Sheriff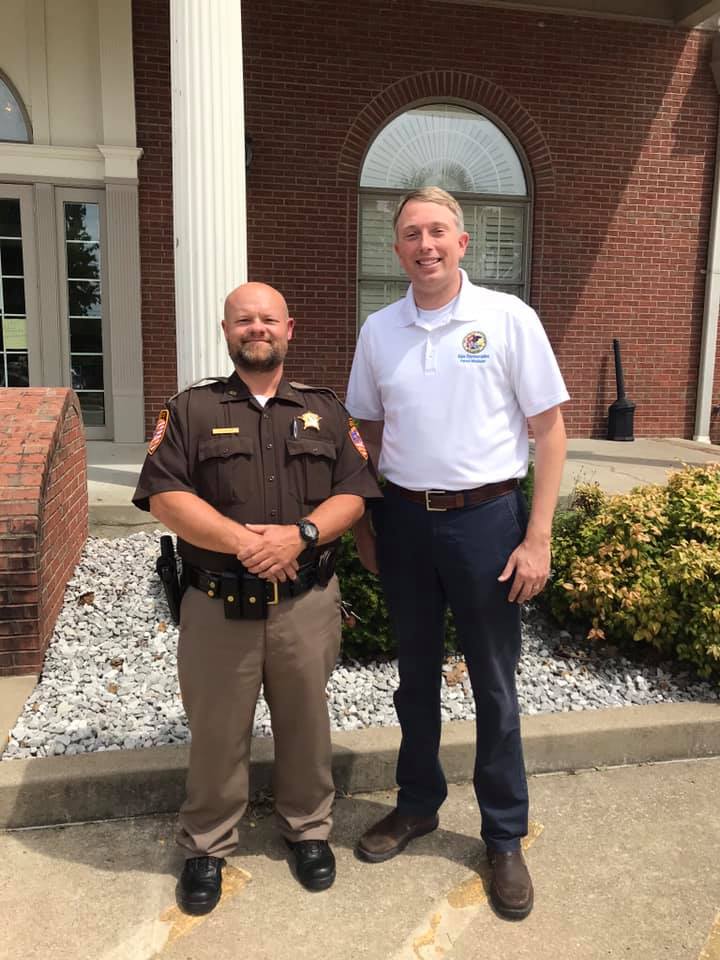 Another big congratulations and good luck to new Massac County Sheriff Chad Kaylor. Great to meet him and be there on his first day! THANK YOU to both Sheriff Holder and Sheriff Kaylor for stepping up to serve our communities and keep us all safe.
Stay Connected!
My office in Harrisburg is open Monday through Friday 8:30-4:30. You can reach me by phone at 618-294-8703 or by emailing Windhorst@ILHousegop.org.