The House and Senate were not in Session this week, but there are several news items to report following a whirlwind week of bill filings and press conferences, and Committee hearings. The 2020 legislative Session has barely begun, but the competition for the silliest, worst bills I have ever heard of is getting stiffer by the day.
Let's take a look at three truly ridiculous bills that made news this week.
SB 3313 – Bans gas powered leaf blowers.
HB 5170 – Requires all FOID card applicants to provide proof that they hold $1,000,000 in liability insurance. ONE MILLION DOLLARS.
HB 4571 – Requires your automobile's fuel to be pumped by a gas station attendant.
I will stand in firm opposition to all of these bills, but you can probably expect more 'silly' bills to make the news in the coming weeks. More than 5,000 bills have been filed since 2019 when the 101st General Assembly was seated, and the 2020 legislative Session has just begun. Expect more to follow.
Illinoisans are already some of the most regulated, highest taxed people in America. I will continue to oppose overreaching regulations and silly bills like those mentioned above. My goal has been and always will be to reduce the size, scope, weight, and cost of State government.
Cash Bail System Under Review – House and Senate Judiciary Criminal Law Committees Meet in Chicago
On Thursday, I traveled to Chicago for a joint meeting of the House and Senate Judiciary Criminal Law Committee. The purpose of the hearing was to discuss Illinois' current cash bail system for incarcerated individuals. Often times, when someone is arrested and placed in county jail awaiting trial, they are unable to afford to pay to post cash bail. This is true for criminals that are accused of serious crimes like rape and murder, as well as for criminals that have committed far pettier crimes.
However, there is a move now being supported by Lt. Governor Juliana Stratton and Democrat lawmakers in both the House and Senate to potentially eliminate cash bail. As a former prosecutor, I am deeply concerned about any move to reduce penalties for criminals. Central to the issue of cash bail is the protection of victims, and the potential that someone let go for a 'petty' or non-violent offense, or even for an assault and battery, or armed robbery would be released on their own recognizance opens up the potential for some seriously bad results. In other words, what penalty is there for committing a crime if you don't have to pay any money and you are just let out of jail?
The committee heard testimony from multiple panels representing varying interests. The testimony of DuPage County State's Attorney Robert Berlin was highly enlightening and in my opinion provided the committee with the most valuable information of any of the panelists.
State's Attorney Berlin testified that under the Illinois Constitution, victims of crimes have a right to be compensated for their injuries or losses and that in many jurisdictions, bail money is used to help pay for that restitution. Without cash bail, he said, many victims could go uncompensated.
Another panelist from the American Civil Liberties Union argued for the end of mandatory minimum sentences. I completely disagree with any move that would end mandatory sentences. I know that there's a lot of disagreement about truth in sentencing, and there are some stories that perhaps don't always paint it in the best light, but I think for the public to understand an offender's actual prison sentence is important. I believe it is also important for victims and families of victims that when a sentence is given, they can, in violent crime situations, understand that is what the person who harmed them or their loved one is going to receive.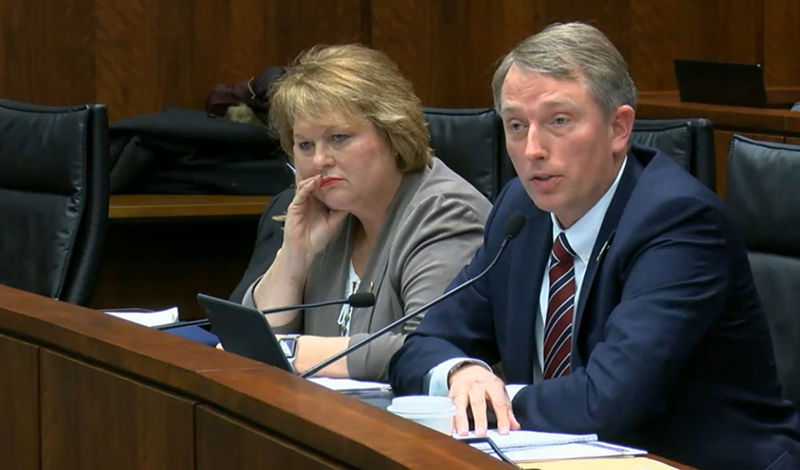 Ending cash bail, in my opinion, would lead to an increase in repeat offenses, and would harm victims of violent or heinous crimes because the funding that is used to compensate victims would dry up completely. The system is not perfect, but the risks to public safety are too great to do away with cash bail completely. I will continue to keep you up to date as more hearings are held on this critical issue.
Local media outlets provided a couple of informative stories following the hearing. Check out the links below to learn more.
WSIL -TV Illinois lawmakers discuss eliminating cash bail, improving justice system
The Southern Illinoisan: Illinois bail, sentencing reform conversation begins to take shape
Illinois State Police Director Supports Mandatory Fingerprint Database for Gun Owners
Illinois State Police Director Brenden Kelly held a press conference at the State Capitol this week in part to highlight his support for SB 1966, a bill named the "Fix the FOID" Act. You may remember this legislation from last year. My Republican colleagues and I worked very hard in opposition to the bill, but it passed the House and remains stalled in the Senate. The push seems to be on to get the bill through the Senate in 2020.
There is no question that the FOID card system for renewals is a total mess, but the "Fix the FOID" Act does nothing to address the underlying problems with the FOID renewal process.
What SB 1966 DOES do is create a state government mandated and maintained fingerprint database for all applicants for FOID cards. I strongly opposed SB 1966 because it takes direct aim at law-abiding citizens' Constitutional Rights and protections. I have little doubt that any court challenge of the law will reveal and affirm its unconstitutional nature. That means that the potential passage of SB 1966 will serve as a massive waste of time and resources for legislators, members of the judiciary, and the average tax paying individual in Illinois.
I have now filed multiple bills I believe will address some of the many problems with the FOID renewal process, reduce some of the cost and regulations on law-abiding gun owners, and reduce the massive backlog of renewals currently pending approval at the Illinois State Police's headquarters.
Let's take a look at a press release I issued this week in regard to FOID and legal gun ownership in Illinois.
Metropolis….Since taking office, State Representative Patrick Windhorst (R-Metropolis) has been a staunch supporter of 2nd Amendment Rights. Windhorst, true to his record, has introduced a bold legislative agenda aimed at protecting the 2nd Amendment Rights of the people of Illinois.
The legislative package is made up of nine bills, which Windhorst says, if passed, would eliminate onerous regulations and cut down the high cost of exercising 2nd Amendment Rights.
"The package of bills that I've introduced are aimed at cutting red tape and saving law-abiding citizens time and money," Windhorst said. "Illinois is one of only four States that still requires a Firearm Owner's Identification Card (FOID). I do not believe the FOID card is constitutional, and that issue is pending in the Illinois court system. Prior to that ruling however, there are steps we can take as a legislature to return Constitutionally-guaranteed rights back to law-abiding Illinoisans."
At the beginning of 2019, Rep. Windhorst introduced legislation that would repeal Illinois' FOID card requirement (HB 913). Windhorst has repeatedly called for a vote on the bill in the House.
"My preference would be for the State of Illinois to join 46 other states in the nation in removing the unconstitutional requirement of the FOID card," Windhorst said. "As I continue to push for the repeal of the FOID requirement, I believe we can pass some common sense legislation to ease the burden on law-abiding gun owners."`
• HB 4391 would ban local government units from imposing taxes or fees on firearms and ammunition.
• HB 4392 would eliminate the 72 hour waiting period for individuals that have been granted a valid license to carry a concealed handgun under the Firearm Concealed Carry Act.
• HB 4393 would lower the fee to obtain a concealed carry license from $150 to $100.
• HB 4397 grants exclusive power to the State of Illinois in regard to the regulation of the ownership and possession of firearms and invalidates existing and future local ordinances or resolutions that require local registration, or local reporting of the sale or transfer of a firearm, and bans municipalities from maintaining any kind of firearm registry.
• HB 4398 allows any individual that has received a permit to conceal carry a firearm to do so on public transportation.
• HB 4447 states that any renewal application shall be accepted by the Illinois State Police if submitted within 180 days before the expiration of the applicant's FOID card or concealed carry license.
• HB 4448 would require the Illinois State Police to automatically renew any concealed carry license holder's FOID card as long as their conceal carry license is in good standing until the time that the concealed carry license expires.
• HB 4450 spells out the process by which any appeal of the denial of a FOID card or concealed carry license must be handled and provides specific guidelines for the State Police in regard to the time it takes to process any such appeal
Rep. Windhorst Visits Students in Vienna
This week I had the opportunity to visit Vienna Grade School and speak to the 8th grade students. They were very informed about state government and asked excellent questions! Thank you for the invitation!
Stay Connected!
My office in Harrisburg is open Monday through Friday from 8:30 a.m. – 4:30 p.m. You can reach me any time by calling 618-294-8703 or contact me via my website at www.ilhousegop.org/contactwindhorst or by emailing Windhorst@ILHouseGOP.org
Get the Illinois House Republicans Week in Review emailed directly to your inbox! Sign up today to get a first-hand look at the continuing legislative and fiscal challenges facing policymakers in Springfield.