Dear Friend,
I have signed on to the following joint opinion editorial (op-ed) with my colleagues Rep. Terri Bryant and Dave Severin in response to Gov. JB Pritzker's decision to release inmates facing deportation orders back in to Illinois communities without notifying proper immigration authorities or even local law enforcement.
During the last week of February, House and Senate Republicans joined members of the Illinois Sheriffs' Association for a press conference to denounce Governor Pritzker's decision to end cooperation and communication with the federal Immigrations and Customs Enforcement Agency (ICE). The Governor's policy shift now allows for the release of non-citizen, violent offenders back into our communities without any notice to law enforcement.
Throughout 2019, several county sheriff's offices across the state of Illinois worked in cooperation with the Illinois Department of Corrections to coordinate the detainment and transfer of these criminals into the custody of ICE.
With zero notice or explanation to the public or to law enforcement officials, Governor Pritzker's administration has ended the policy of cooperating with ICE on following through with deportation orders.
Let us be clear, the criminals that are being released are not all small-time purse snatchers. In 2019, 223 individuals were transferred from IDOC custody to federal immigration authorities. Of those 223: 36 were found guilty of sexual offenses against minors, including crimes against individuals as young as 5 years old; 11 were found guilty of murder, attempted murder or intent to kill or injure; and 33 were found guilty of a criminal offense involving a weapon.
Southern Illinois is home to several state-run correctional facilities that house convicted criminals that also happen to have a deportation order waiting for them upon their release. These include Shawnee, Big Muddy, Pinckneyville, Menard, and Vienna Correctional Centers.

Instead of working with local law enforcement and the proper authorities of the federal government to deport violent criminals, Governor Pritzker has decided to release dangerous felons into our communities despite requests from federal immigration authorities to hold them. This decision endangers public safety. We join the Illinois Sheriffs' Association in denouncing this reckless change in policy and demand it be reversed.
Furthermore, the Governor has placed a high priority on reforming Illinois' criminal justice system. He has willing partners on the Democrat side of the aisle that now want an end to cash bail for inmates awaiting court dates. The Governor's own Lieutenant Governor Juliana Stratton even appeared before a joint committee of the House and Senate's Judiciary Criminal Law Committee earlier in February in Chicago to endorse the end of cash bail. We feel ending cash-bail would be a mistake, and fear the consequences of any such move will result in offenders re-offending. The criminal justice system is not perfect, but the Governor's most recent policy changes and proposals to make even further changes are not going to make any of our communities safer.
We call on Governor Pritzker to end his policy to release non-citizen, convicted felons facing deportation into Illinois' communities without notifying the proper authorities. This is a critical issue of enforcing law and order and protecting public safety.
####
Ethics Commission Meets Again
In the past few months, I have used my weekly newsletter to keep you updated on my efforts to reform Illinois' ethics laws and stamp out corruption. After voting YES on legislation to help create the Joint Commission on Ethics and Lobbying Reform, I was honored to be appointed to one of the two House Republican posts on the task force. This week the Commission met to discuss public officer prohibited activities.
A wide-ranging federal investigation into systemic corruption has yielded arrests, indictments, guilty pleas, and prison sentences for politicians that have abused the public trust, taken bribes, and either moved or killed legislation that ultimately affected their own personal-profit bottom line.
As the Commission continues to meet, I will provide you updates on any progress we make in reforming our broken ethics laws.
Illinois and the Coronavirus
Illinois one of only three U.S. states that can test for coronavirus. There has been extensive news coverage of a deadly contagious virus, currently labeled COVID-19, first reported in China. Thousands of cases have been reported, most of them in the country of origin. As of Friday, February 21, only three U.S. states – Illinois, California, and Nebraska – are credentialed by the Association of Public Health Laboratories as having adequate test kits and expertise to test for coronavirus.
The U.S. Centers for Disease Control and Prevention (CDC) has confirmed this negative judgement upon public health agencies in states other than Illinois. Test kit procedures being carried out in several U.S. states are returning inconclusive, scientifically invalid medical results. Because this is a new virus, testing for it is a challenge to the American public health establishment. The dedicated professionals at the Illinois Department of Public Health (IDPH) are receiving praise from their peers nationwide for being as ready as possible for the current coronavirus outbreak. IDPH continues to closely monitor the situation in Illinois and is taking preventative action to limit the spread of this contagious disease.
HPV Vaccine Mandate Poll Results
Late last week, I asked my constituents to weigh in on the following Facebook poll question: As prescribed in HB 4870, students entering the sixth grade of any public, private, or parochial school would be required to receive the human papillomavirus (HPV) vaccination and provide confirmation to the school that the student has completed the series of HPV vaccinations upon entering the ninth grade of any public, private, or parochial school. POLL QUESTION: Should Illinois government require teenagers to receive the HPV vaccine?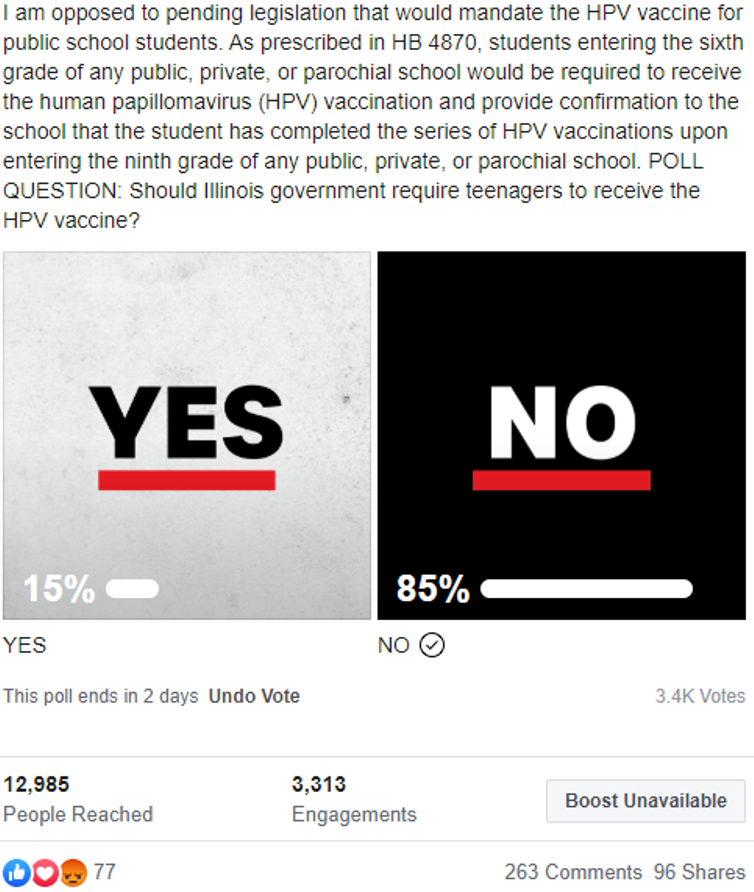 Stay Connected!
My office in Harrisburg is open Monday through Friday from 8:30 a.m. – 4:30 p.m. You can reach me any time by calling 618-294-8703 or contact me via my website at www.ilhousegop.org/contactwindhorst or by emailing Windhorst@ILHouseGOP.org
Get the Illinois House Republicans Week in Review emailed directly to your inbox! Sign up today to get a first-hand look at the continuing legislative and fiscal challenges facing policymakers in Springfield.