Dear Friend,
Last week was a first for me as I joined State Rep. Terri Bryant and State Rep. Dave Severin for a "Virtual Town Hall" meeting. These unprecedented times have caused all of us to have to change our normal routines in a variety of ways.
I found the experience to be very informative. We took live questions from a live audience and all from the "socially safe" distance provided to us by the miracle of the internet. The topics that we discussed ranged from issues folks are having trying to file for unemployment to the most recent uproar over the blocking off of sales from some "big box" store garden centers.
Your Southern Illinois legislative delegation has worked diligently to answer your questions throughout the COVID-19 crisis. Businesses are hurting, hard working Southern Illinoisans are hurting, and our way of life has drastically changed.
We expressed our concerns to the Pritzker administration in regard to locking down correctional facilities and then releasing hundreds of inmates. Some research that emerged early on in the DOC inmate release issue indicated that among the inmates released early from prison some had been convicted of crimes ranging from home invasion to murder.
I am a current member of the House of Representatives' Judiciary Criminal Law Committee. I have seen a number of legislative proposals aimed at 'criminal justice reform' come through the committee. Some go down to defeat, some are so extreme that even the normally progressive-minded democrat majority in the committee never even call the bills for votes.
Achieving justice for victims of violent crime was my business for the first 14 years of my public service career. As you may know, I was the Massac County State's Attorney from 2004-2018. To see murderers released early from prison and to have the governor use the COVID-19 crisis as the stated reason incenses me. There is no excuse for the governor to have allowed the early release of inmates that are in good health, yet still have many years left on their sentences to be released back into the community.
I signed a letter last week that went to the Director of the Illinois Department of Corrections asking several questions relating to the COVID-19 early release program. You can read my press release and the letter at this link:
MARION – Three Southern Illinois Republican State Representatives are calling for Governor JB Pritzker to take immediate action to remedy issues plaguing the Illinois Department of Employment Security (IDES). Web site and telephone hotline failures have caused thousands of Illinoisans to be unable to file for unemployment benefits.
"My offices have been overwhelmed with phone calls from constituents that are not able to file online or to even speak with someone on the phone," Bryant said. "I have been supportive of the governor's stay at home orders and guidelines for social distancing. I still am. But, re-assigning staff and seeking private sector technical assistance would certainly go a long way to ease the backlog and get unemployed people the benefits they need."
Rep. Patrick Windhorst (R-Metropolis) says his office is receiving similar complaints.
"Governor Pritzker said IDES will not be able to process unemployment claims for self-employed workers until the middle of May," Windhorst said. I call on the governor to redeploy state workers and seek help from the private sector and the federal government to help reduce the delays applicants are experiencing."
State Rep. Dave Severin (R-Benton) encouraged the governor to act on good advice when he gets it from legislators or outside sources.
"We've seen the governor make a lot of decisions that have impacted every single Illinoisan. Now we are asking him to make decisions to help those people that have lost their jobs due to the coronavirus emergency," Severin said. "Where other states have used the federal government's IT resources, Illinois has not. Where other states have relied on the private sector's technical expertise, Illinois up until now has not. The question is, why? The governor can take further actions to fix the backlog at IDES. Unemployed people in Illinois have bills that are due and families to feed. The time to fix the problems at IDES is now."
Illinoisans are reminded that because all IDES offices are currently closed, applying for benefits is only available online and over the phone. Interested persons can find all available information on how and when to file for unemployment by visiting https://www2.illinois.gov/ides/Pages/default.aspx or by calling:
####
WI-FI Hotspot Map helps Students during Pandemic
April 17, 2020
Illinois state agencies released a wi-fi hotspot map today to help students across the state who lack internet access in their homes. The effort was spearheaded by the Illinois Board of Higher Education (IBHE) along with the Illinois State Board of Education (ISBE), the Department of Commerce and Economic Opportunity (DCEO), the Department of Innovation and Technology (DoIT), the Office of the Secretary of State Illinois State Library, and the Illinois Community College Board (ICCB).
"The Illinois Board of Higher Education embarked on a collaborative project to identify public locations across the state where students could tap into free internet access," said IBHE Executive Director Ginger Ostro. "It's key to helping our state's students to 'attend' class, use video and conference calling, conducting research, emailing assignments, and more."
Thousands of Illinois students are participating in e-learning during the ongoing COVID-19 pandemic. As of April 15th, the wi-fi map has 200 hotspots students can use to complete coursework. Students and their parents or guardians should continue to practice social distancing by remaining in their cars while utilizing the hotspots. If a student or caretaker is sick or experiencing symptoms, they should remain at home.
"The COVID-19 pandemic has impacted the life of every Illinois student but not equally," said State Superintendent of Education Dr. Carmen I. Ayala. "The transition to remote learning has accelerated our efforts to close the digital divide among Illinois students and families. This map is one way to level the playing field in the short-term and to increase access to the tools students and educators need to engage more deeply in remote education."
Wi-fi hotspots are available at multiple locations around the state including local colleges and libraries. To find a hotspot near you, click here.
Your Questions Answered:
As I mentioned before, last week's virtual town hall meeting shined a light on a couple of important issues. Some of the questions we received were in regard to the most recent decisions that have been announced by the Illinois Department of Economic Opportunity that temporarily derailed the in-store sales of plant and flower seeds and mature plants. We also were alerted to concerns that Southern Illinois hotels were being designated and taken over by the Illinois Emergency Management Agency or FEMA.
Your Questions Answered: Illinois DCEO and the Latest Available Garden Center Information
Last Thursday DCEO revised their original position on greenhouses, garden centers, and nurseries. Below is text that comes directly from DCEO's Essential Business Frequently Asked Questions:
What about greenhouses, garden centers, and nurseries?
Our original guidance provided that "stores that sell supplies that assist with either (a) agriculture; or (b) products for landscaping can continue to sell those products to the public, provided adequate social distancing is complied with." This guidance remains valid.
We recently expanded our guidance so that all garden stores, garden centers, and nurseries (even those that did not fall within our original guidance above) are allowed to sell products for delivery or pickup. That expanded guidance states: "Garden stores and greenhouses can remain open for purposes of maintaining inventory, and to fulfill online and phone orders for pick-up or delivery only." This guidance applies to both standalone stores as well as garden centers that are part of a larger store (such as a garden center that is part of a hardware store or big box stores such as Lowes or Home Depot).
Your Questions Answered: Southern Illinois Hotels and COVID-19
After reading multiple social media posts and hearing directly from several constituents regarding the use of hotels in the area for COVID driven needs, I was able to speak directly to a representative of IEMA to ask what was going on. The following information was made available to me on this subject. The following is from my notes taken during the conversation:
There are 3 hotel locations in the State to be used as an alternative site for those affected by COVID issues. Those locations are Mt. Vernon, Springfield, and Schaumburg. At this time there is no plan for additional locations. The locations are simply being prepared in the event they are needed. Each location is to house only those from the region in which it is located. There is no plan at this time to move anyone from other parts of the state to the southern Illinois region.
The criteria being used to determine who will be housed at each location are as follows:
1) Medical professionals who may feel uncomfortable going to their individual homes due to fear of exposing loved ones to COVID.
2) COVID affected, but no need for hospitalization. Also a type of step down. The person may have been previously hospitalized, no longer requires hospitalization, but should not yet return home.
3) Persons living as part of the homeless population who are vulnerable to COVID and have nowhere to self-quarantine.
At this time there is no one being housed at the Mt. Vernon location. All placements will go through the local Health Dept. for approval.
Workplace Safety and Workplace Rights:
The Attorney General's Workplace Rights Bureau, and the Department of Labor (IDOL) are both investigating employee complaints pertaining to the lack of implementation of safe and sanitary practices in the workplace. It is in our best interest and of the general public that manufacturers take the precautions necessary to prevent the spread of COVID-19 especially in the ranks of those deemed essential workers that are the engine of our state.
Please refer to the table below to determine the appropriate entity to submit an employee's complaint. (For a detailed outline see attached a file issued by IDOL):
Reporting a Public Employer
(i.e. state and local government)
Reporting a Private Sector Employer
Step 1:
Submit a complaint with the Illinois OSHA at: https://www2.illinois.gov/idol/Laws-Rules/safety/Pages/Hazards.aspx.
Step 2:
Option A: Submit a complaint with the Federal OSHA at 1-800-321-OSHA (6742) or online: www.osha.gov/pls/osha7/eComplaintForm.html.
To view the Federal OSHA guidelines for enforcement, click here.
Option B: Submit a complaint with the Attorney General's Workplace Rights Bureau at (844) 740-5076 or submit a complaint online.
The complaint will then be categorized as one of the following and follow its course.
Low Risk – Social Distancing, CDC Guidelines, Sanitary Work Environment: failure to maintain less than 50 or more people in an area, failure to maintain a 6 feet distance between workers on a line, or failure to exercise cleaning standards;
High Risk – Failure to maintain a safe work environment: such as lack of personal protective equipment.
Key Links:
Throughout this crisis, a mountain of information has been dropped on the people of Illinois, and indeed into the laps of your legislators and their staff. We have done our best to keep you up to date on the latest breaking news from the Governor to every state agency. To aid in that effort, the Hosue Republicans have put together a useful website with links and articles you where you can read all the latest news.
The State of Illinois also maintains a highly informative website that provides information on all things "coronavirus".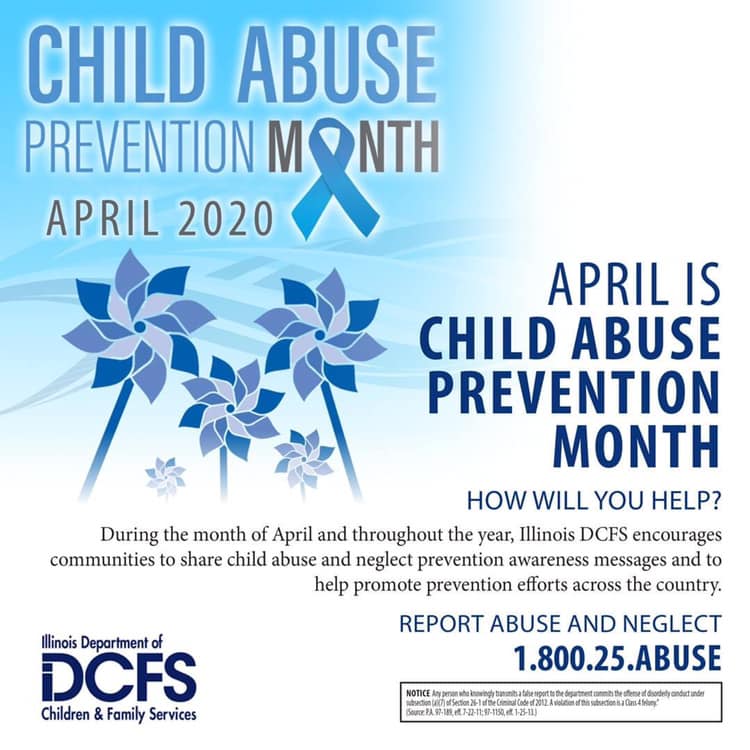 Stay Connected!
Throughout the rest of this crisis, my office will be offering remote constituent service. You can contact my office staff by emailing Windhorst@ILHouseGOP.org. Please stay safe and heed the warnings from elected officials. Together, we will get through this crisis and emerge stronger than ever. God bless you and your family and may God bless the United States of America and the State of Illinois.