SPRINGFIELD – State Representative Patrick Windhorst (R-Metropolis) was sworn-in to a second term as 118th district State Representative during inauguration ceremonies in Springfield on Wednesday.

Representative Windhorst says his first two years in Springfield have been as rewarding as they have been challenging, and he expressed his gratitude to the citizens of the 118th district for the honor to serve.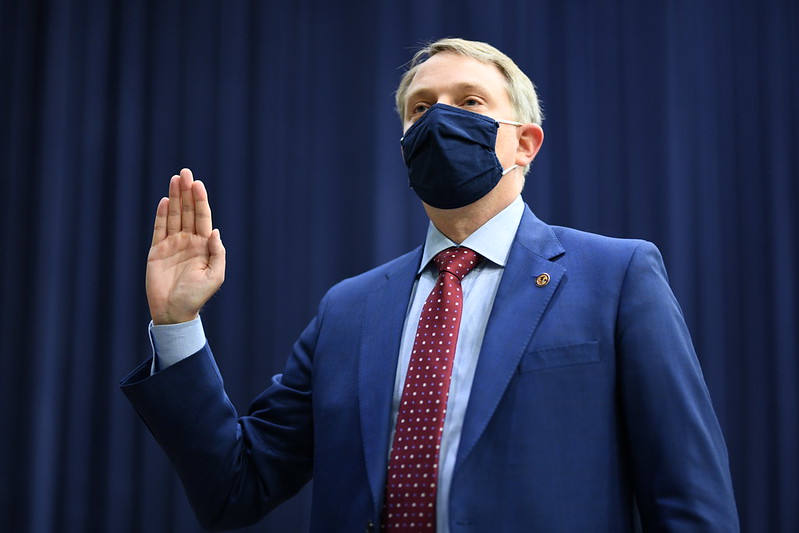 "Being your voice in Springfield is the honor of my lifetime," Windhorst said. "I could not effectively represent the people of Southern Illinois if not for the love and support of my wife Holly and our two beautiful children. I am so thankful for the trust that has been placed in me by the people of Southern Illinois. I recognize the responsibility you have given me, and I take my oath of office to defend the Constitutions of the United States and the State of Illinois very seriously."

Windhorst was first elected in November 2018, says the challenges facing the State of Illinois come at a time of great historical change. House Speaker Michael Madigan lost the Speaker's gavel for the first time since 1996 after spending a brief 2-year period as the minority leader when Republicans swept to power across the country. Madigan served a total of 38 years in the position, and this week marks Madigan's 50th year as a member of the chamber.

"I witnessed history being made as Speaker Madigan lost his position and a new Speaker of the House was selected. This is something I know many people have hoped would happen in their lifetimes, and I am grateful to have a front-row seat as a witness to this historical transfer of power," Windhorst said. "I also want to express my sincere congratulations to the new Speaker of the Illinois House Emanuel Chris Welch.
Windhorst notes Speaker Welch's ascension to the House's top position is also very significant, as he is the first African American Speaker of the House of Representatives.
"Speaker Welch has indicated that he is willing to review and rewrite some problematic rules that exist in the House's parliamentary procedures, and that he supports term limits for legislative leaders and legislative maps free of the gerrymandering that has occurred in the past. These are some policy areas where I hope we can work cooperatively together."

Windhorst says his priorities in a new term include passing a robust package of reforms that will strengthen Illinois' ethics laws, stem the tide of corruption that has plagued the state, and oppose attempts at further erosions of Constitutional Rights.

Windhorst will continue to maintain his 118th district office at 2 N. Vine Street Suite 5A in Harrisburg. His office can be reached by phone at 618-294-8703. Rep. Windhorst's official website and contact form is located at RepWindhorst.com.
###