Dear Friend,
This week's Windhorst Weekly recaps a busy couple weeks that have come about because of two Special Sessions of the Illinois General Assembly. Tuesday, August 31st saw the House and Senate pass redistricting legislation (Map Version 5 so far from Illinois Democrats) after a marathon Session had legislators casting crucial votes on legislative maps that will impact our state for the next 10 years while most Illinoisans were asleep.
One week later, the House returned to Springfield to pass legislation that guarantees higher energy bills and the shuttering of coal fired power plants in Southern Illinois. The Illinois Senate passed the House's amended version of the bill during today's Special Session. Job losses, electricity hikes and progressive California-style energy policies are coming to Illinois as soon as JB Pritzker adds his signature to the legislation, which he has promised to do.
Also, a reminder, the Carbondale senior citizens' health and wellness fair scheduled for THIS WEDNESDAY SEPTEMBER 15, 2021 IS POSTPONED until further notice. Thank you for your continued feedback on major issues facing our state. I invite you to contact me any time if I can be of assistance to you!
Windhorst: IL Democrats Prioritize Raw Political Power in Latest Redistricting Plan
SPRINGFIELD – Following a marathon day of a Special Legislative Session on Tuesday, State Rep. Patrick Windhorst (R-Metropolis) decried the process used to advance a new set of legislative redistricting maps to Governor Pritzker's desk, the second such effort in less than 6 months.
"Democrats rushed the redistricting process last spring, used bad data, and ended up with an unconstitutional map," Windhorst said. "The priority of House and Senate Democrats was purely the advancement and protection of their own political power. Their actions predictably led the General Assembly to have to return when US Census data was released, as it was revealed that some legislative districts deviated as much as 30% in population from others in the state. House Republican members of the House Redistricting Committee sternly warned against using American Community Survey data to draw legislative maps, but Democrats pushed forward."
The rare August legislative Special Session was set to begin around noon on Tuesday, but lawmakers found themselves with plenty of time on their hands as Democratic politicians worked behind closed doors to finalize new legislative maps that, if signed and found Constitutional, would take effect in January 2023.
"The Democrats called us to Springfield, and even after all the time that has passed since the US Census released its data, and even after an Illinois court directed Democrats to take steps to fix the errors in their original maps, they didn't have their homework done. Legislators ended up sitting around for hours while supermajority politicians went behind a closed, locked door to draw maps that ensure their partisan advantage for the next decade. The process was a sham and the final product is a shameful demonstration that Democratic politicians prioritized their own political power over good government."
The new map draws together 12 current House Republican incumbents while ensuring no incumbent House Democratic politicians will face a primary with a fellow Democratic incumbent.
###
Southern Illinois Legislators Postpone
Carbondale and Marion Senior Fairs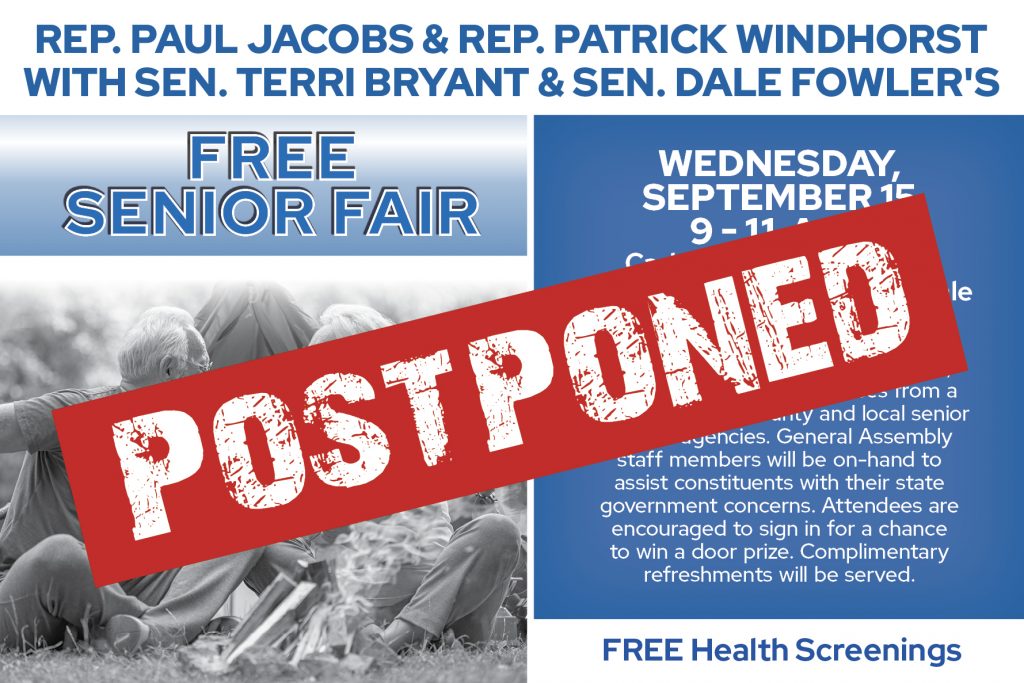 SOUTHERN ILLINOIS – State Senator Dale Fowler and State Senator Terri Bryant, and State Representatives Dave Severin, Patrick Windhorst, and Paul Jacobs released the following joint statement on Thursday regarding the postponement of two upcoming senior citizens health fairs.
"Out of an abundance of caution and care for the health and well-being of our constituents throughout Southern Illinois, we have made the decision to postpone upcoming senior citizens health fairs scheduled in Marion and Carbondale later this month. We regret that we must take this step, but our number one priority must be ensuring the health and safety of the hundreds of senior citizens and dozens of healthcare and senior services providers that would be in attendance at these events."

State Senator Dale Fowler and State Rep. Dave Severin's senior citizen health and wellness fair scheduled for Tuesday, September 14, 2021 at The Hub in Marion has been postponed until a date still to be determined.

Senator Fowler and Senator Bryant and Rep. Patrick Windhorst and Rep. Paul Jacobs' citizens health and wellness fair scheduled for Wednesday, September 15, 2021 at the Carbondale Civic Center has also been postponed until a date still to be determined.
###
Southern Illinois Republicans Vote Against Pritzker's Environmental Reforms Citing Higher Costs for Middle Class and Seniors on Fixed Incomes
SPRINGFIELD – State Representatives Dave Severin, Patrick Windhorst, and Paul Jacobs issued a joint statement following the passage of controversial climate change and electricity rate increase legislation on Thursday night. The legislators argue significant negative economic impacts will accompany the loss of good-paying union jobs and electricity rate hikes will hurt middle-class families and senior citizens on fixed incomes.
Prairie State is a power plant that is owned by cities and electric cooperatives throughout the state, providing power for a significant portion of the state of Illinois. Prairie State also serves electric co-ops throughout southern Illinois. The legislation that passed the House requires Prairie State to shut down its plant in Marissa by 2035. It's closure will mean the loss of base power load and the loss of jobs.
"Under SB 2408, Southern Illinois families and businesses will pay higher electric bills. People that work to produce coal-fired power will be fired as a result of this bill. JB Pritzker and House and Senate Democratic politicians believe eliminating cheap, clean, reliable, and efficient sources of energy in the name of climate change is worth severe economic pain for the middle class and seniors on fixed incomes. We disagree.
Prairie State is already meeting Federal carbon emissions standards ahead of arbitrary deadlines set by Chicago politicians. This premature closure will mean local taxpayers will be on the hook to pay off debt well into the future as electricity ratepayers see their bills become unaffordable.
Liberal political positions should not dictate whether the lights can stay on in rural communities throughout central and southern Illinois. We will continue working to repeal these severe and consequential policies that will lead to the loss of good-paying jobs for hard-working people and cost average people more money for basic access to reliable electricity."
###
Stay Connected!
My office in Harrisburg is open Monday through Friday from 8:30 AM – 4:30 PM by appointment, phone, and email. You may also reach my by calling 618-294-8703. You may also reach me using the contact form on my website at RepWindhorst.com/contact.