Dear Friend,
Last week's first three days of Veto Session saw zero action on pending legislation. The major issues have all been pushed back to be dealt with when the House and Senate head back to Springfield tomorrow. Lawmakers are expecting to consider the repeal of a requirement that medical professionals must notify a minor child's parent or legal guardian prior to performing an abortion. I am very much opposed to this change. There is also the potential for legislative changes to the healthcare right of conscience act (HCRCA) that have the potential to increase Governor Pritzker's executive authority. Again, I cannot support giving this governor even more power! There is also the matter of Federal Congressional and State legislative redistricting. New US Congressional maps were released this weekend, but changes are expected. I've got information on these topics and more in this week's Windhorst Weekly!
Veto Session Week One Recap – Democrats Change House Rules to Allow Remote Voting to Continue through 2021
Last week was pretty much a big waste of time and money in the Illinois House. Unfortunately, the only vote that was taken on the floor of the House was on a House Resolution that changes the rules for remote voting. With such a long list of controversial floor votes potentially coming this week, Democrats changed the House Rules to allow legislators to vote remotely for the rest of this calendar year.
I am in favor of legislators meeting at the Capitol to conduct the business of the people of Illinois. The people's House and the people's Senate should be working together in the Capitol so that constituents and members of the media should have transparent, easy access to legislators to express opinions and ask questions. House Democrats pressed ahead and secured the votes they needed to ensure remote voting is still allowed throughout the rest of 2021.
Repeal of Parental Notification prior to receiving Abortion, other Major Medical Services
It is looking more and more like Illinois Democrats will attempt to pass legislation this week to eliminate the requirement that health care providers notify the parents of minor children 48 hours prior to an abortion or other major medical procedure.
Current Illinois law requires parental notification prior to any major medical procedure, including abortion. Illinois already has some of the loosest restrictions of any state in the country for who can get an abortion, when someone can get an abortion and taxpayer funding of late-term abortions. If this legislation makes its way to the House floor, I will stand in strong opposition just as I have done as I have built a 100% pro-life voting record.
Dems File Legislation to Change Health Care Right of Conscience Act
Legislation that would change the State's Healthcare Right of Conscience Act has now been filed. The language of the change can be found in SB1169 House Amendment 2. The Health Care Right of Conscience Act would be changed by using the following stipulations:
"Violations related to COVID-19 requirements. It is not a violation of this Act for any person or public official, or for any public or private association, agency, corporation, entity, institution, or employer, to take any measures or impose any requirements, including, but not limited to, any measures or requirements that involve provision of services by a physician or health care personnel, intended to prevent contraction or transmission of COVID-19 or any pathogens that result in COVID-19 or any of its subsequent iterations.
It is not a violation of this Act to enforce such measures or requirements, including by terminating employment or excluding individuals from a school, a place of employment, or public or private premises in response to noncompliance. This Section is a declaration of existing law and shall not be construed as a new enactment. Accordingly, this Section shall apply to all actions commenced or pending on or after the effective date of this amendatory Act of the 102nd General Assembly. Nothing in this Section is intended to affect any right or remedy under federal law."
Basically, your right as a free citizen to exercise your right to object to medical services, injections, or tests based on your religion would be removed when it comes to COVID-19. This is a direct affront to our individual rights as citizens.
This would also be the first time the legislature has weighed in on changes to any laws governing the COVID-19 pandemic medical and public safety response. House Democrats seem to want to hand even more power over to JB Pritzker. I'll have more on this issue if and when a vote takes place in the House this week.
Second Draft Congressional District Maps Released:
Four Republican Incumbents Drawn Together, Massive New Southern IL District Gets Even Bigger
On Saturday, House and Senate Democrats released yet another new draft of Congressional district boundaries that would be potentially be in effect after the November 2022 elections when a new Congress is seated in January 2023. The newest version of proposed maps draw together four Republican incumbent members of Congress and would make an already geographically-massive new district in Southern Illinois even bigger. This map disenfranchises voters all throughout the State of Illinois. Politicians simply should not be drawing the maps. The issue of redistricting is too important and too central to the function of our system of government to allow politicians to pick their voters. An independent commission is needed. House and Senate Democrats are likely to bring the new maps up for a vote this week following scheduled House and Senate Redistricting Hearings on Tuesday. You can see the gerrymandering on full display in the picture below.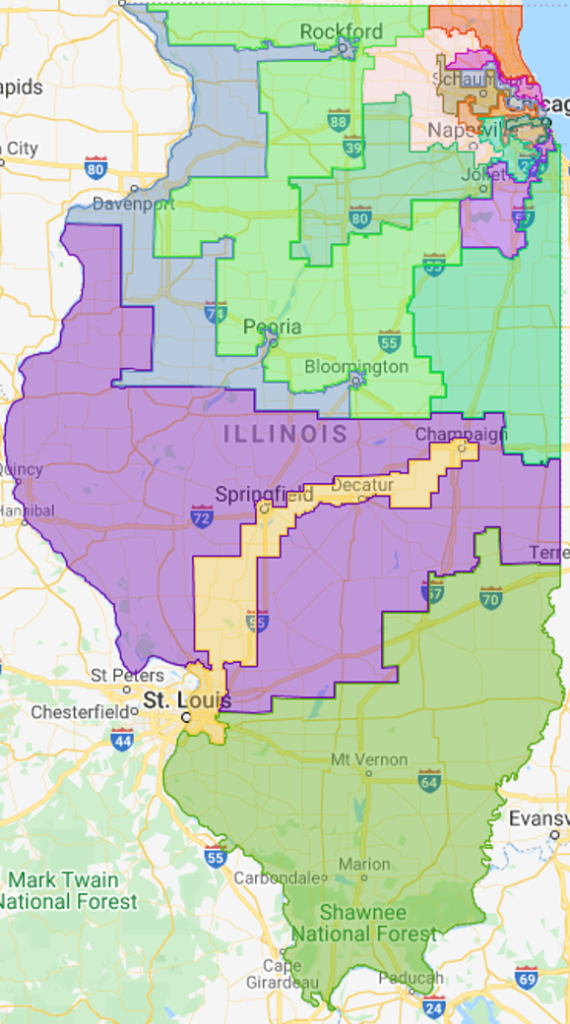 Fort Massac Encampment a Huge Success!
The Annual Encampment event at Fort Massac saw huge crowds and great weather last weekend! I was glad to be able to enjoy the event with so many fellow Southern Illinoisans and tourists from all over the country!
This annual reenactment of late-1700s Illinois life on the frontier prairie features blanket traders, merchants, military units, fife and drum corps, and period-style food from more than 20 vendors. The encampment offers military drills, mock battles, along with story telling and children's activities.
Stay Connected!
My office in Harrisburg is open Monday through Friday from 8:30 AM – 4:30 PM by appointment, phone, and email. You may also reach my by calling 618-294-8703. You may also reach me using the contact form on my website at RepWindhorst.com/contact.