Dear Friend,
I started this week off with an interview on WJPF Radio to speak with Tom Miller on the Morning Newswatch about several issues. The spring 2022 Session has been disrupted by the omicron variant outbreak that has caused record case numbers and impacted every school, industry, and family in some way. Legislators are participating in remote committee hearings throughout the last couple of weeks. There is some movement on priorities of the liberal Democrats that control the House of Representatives, but there has not been much movement in many areas where we can and must do better. My priorities are improving public safety, repealing the SAFE-T Act, blocking any and all further tax increases on working families, and enacting strong, comprehensive ethics reforms to clean up state government.
Illinois less safe since SAFE-T Act enacted
In February of 2021, Governor Pritzker signed the quickly drafted and un-vetted SAFE-T Act into law. The Safety Accountability, Fairness & Equity Today Act was purported to keep Illinois families safer. However, that has not been the outcome for those who are already battling violence in their neighborhoods.
Since the law was enacted, many neighborhoods in Chicago and surrounding suburbs have witnessed an increase in violent crimes that include murder, expressway shootings, carjackings, assaults, armed robberies, smash & grabs and mob retail theft. Compared to 2019, crime is up 7.5% in Chicago. And the neighborhoods most impacted by crime are the ones that have been dealing with violence for decades.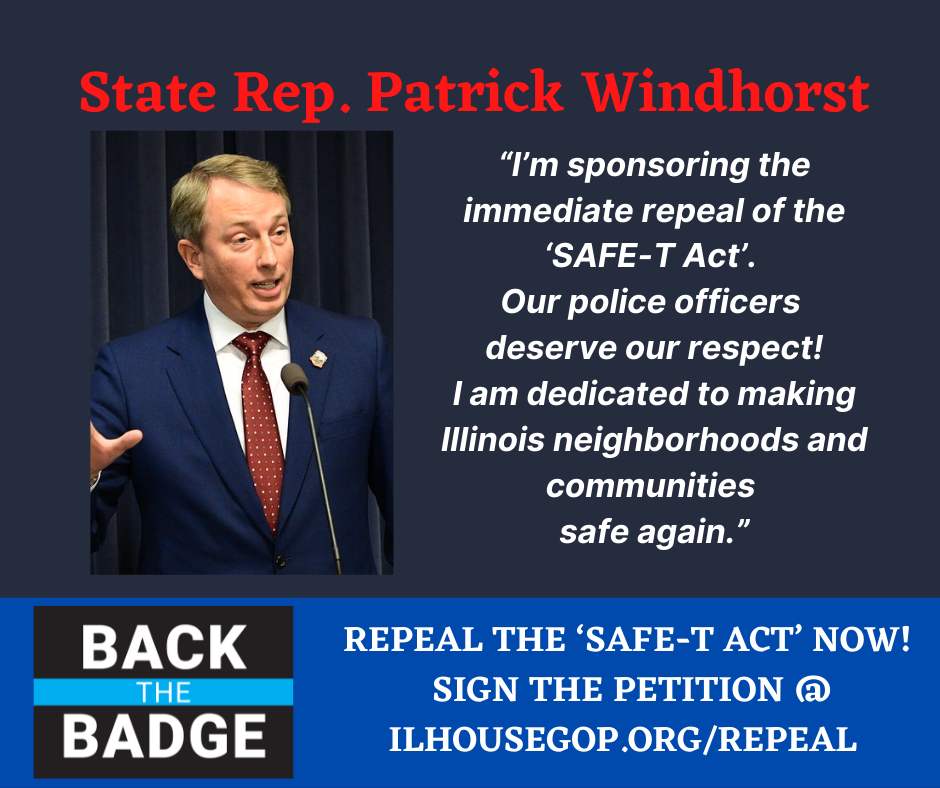 According to a Chicago Sun Times report: "In the seven most-violent police districts in the city, the rate was 25 times higher than the rest of the city — nearly 100 murders per 100,000 residents. That's the largest such gap between the safest and least-safe areas in the 60 years of data tracked by the Crime Lab."

The new SAFE-T Act has made Illinois a less safe place to live for just about everyone. Something needs to be done to address violent crime in Illinois, but it is clear rushing legislation through the General Assembly was not the right solution. Our forbearers created a legislative system that included people from all walks of life from across the state to debate, collaborate and pass legislation with a minimum of unintended consequences. It is when debate and honest input are rejected that well-intended legislation fails to deliver for the people of Illinois. Such is the case of the SAFE-T Act of 2021.

I have filed HR 598 to repeal the SAFE-T Act and we have established a petition to get your input. If you agree we need to repeal the SAFE-T Act, please sign our petition.
Thank you to my hometown newspaper, The Metropolis Planet for covering the press conference I held in Springfield earlier this month on repealing the SAFE-T Act. Read the story at the link below:

https://www.metropolisplanet.com/news/windhorst-files-resolution-to-repeal-criminal-justice-reform-bill/article_0c284869-cbcc-53db-8b1f-2dd3e616213d.html
Lack of action by DCFS is failing the children in the care of the State of Illinois. 
The Illinois Department of Children and Family Services (DCFS) has been burdened in recent years with the growing weight of advocacy lawsuits, consent decrees, and unkept promises for better treatment for the children under its care or supervision.  Despite being the recipient of taxpayer-funded appropriations that have now topped $1 billion/year, DCFS and its top management have not been able to develop a system that reliably provides the services to children that are required by federal rules and case law.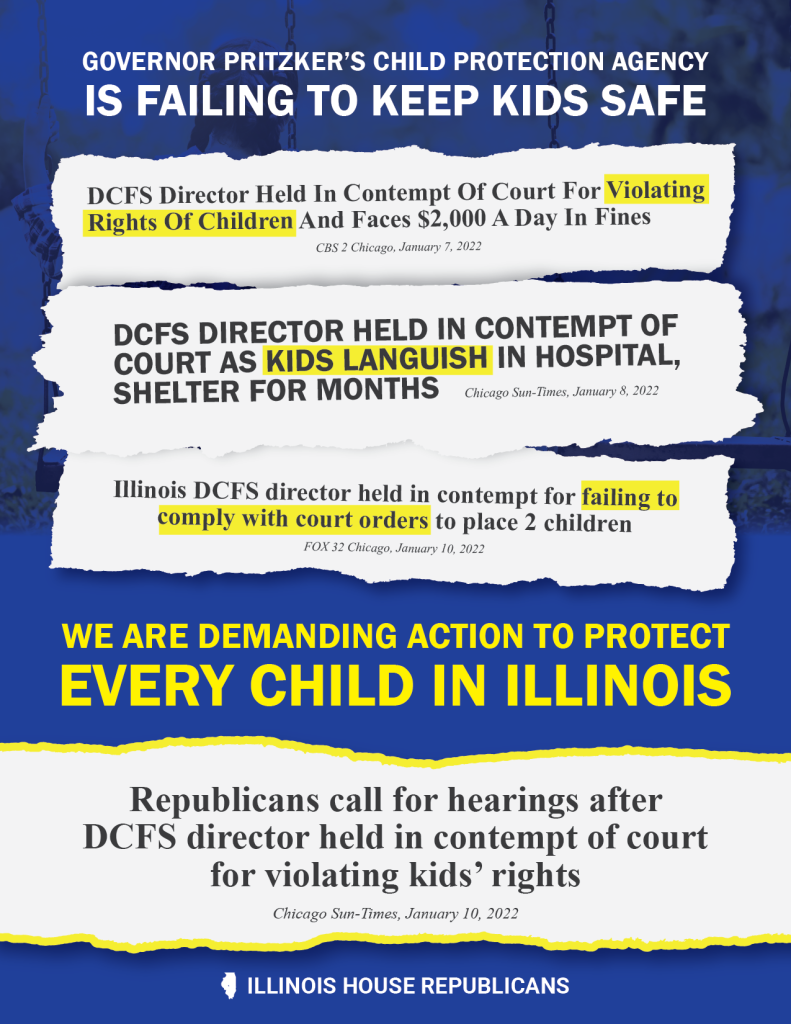 In one long-running case based in Cook County, a judge concluded that DCFS's non-compliance with a series of court orders had reached the level of contempt of court. The court finding was issued on Thursday, January 6.
Illinois House Republican Leader Jim Durkin sent a letter to the Chair of the House Appropriations Human Services Committee this week to call for a hearing on the failures at DCFS that have caused a Cook County judge to hold DCFS director Marc Smith in contempt of court.
In his letter, Leader Durkin stated the following:
Under the Pritzker administration, more than 350 children have been left to languish in psychiatric care despite having been cleared to move on to a family setting.
The unprecedented step by the Cook County judiciary to hold Director Smith in contempt needs to be a wake-up call to the General Assembly. The lack of action by DCFS is failing the children in the care of the state.
On Thursday, January 13, House Republican Reps. Steve Reick, Tony McCombie and Tom Weber held a press conference to reiterate HGOP demands that the Illinois House hold hearings on the current performance of DCFS, its top management, and the realities behind the contempt-of-court finding.
Illinois' Driver Services offices, which conduct drivers' license exams and license card renewals, will remain closed for now 
The Driver Services division is a part of the Illinois Secretary of State's office.  Secretary of State Jesse White has asked many of the members of his staff to work from home during the current COVID-19/Omicron surge.  This policy has closed Illinois' Driver Services offices, and these offices will remain closed next week.  No reopening date has been set, but it is likely these offices will remain closed until the current surge is seen as subsiding.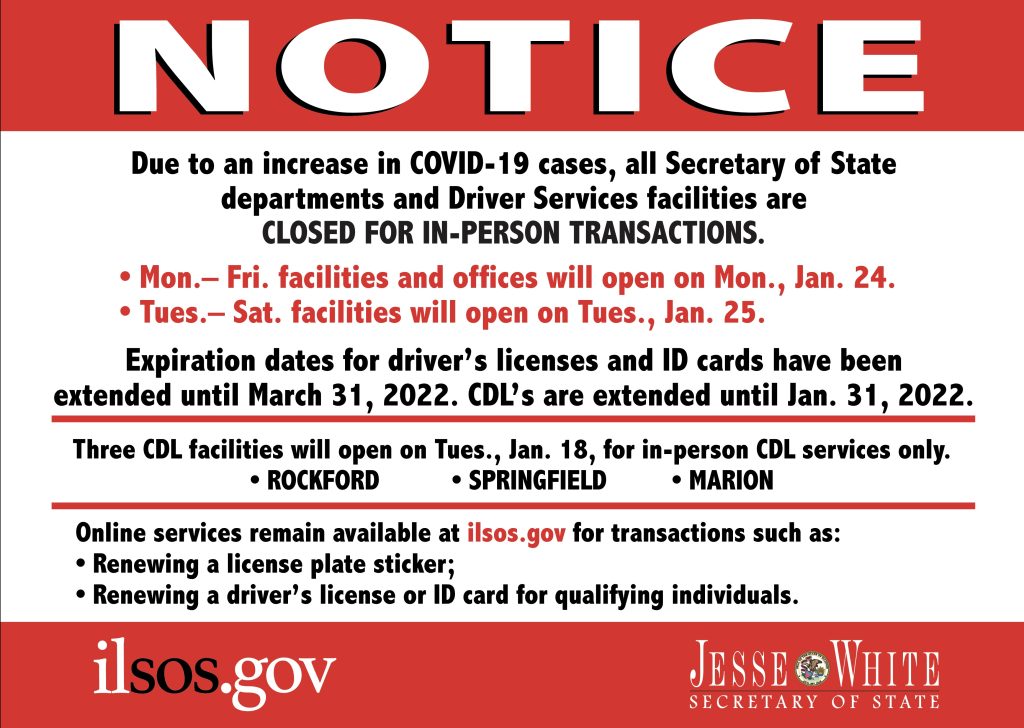 During the current pandemic, the Secretary of State has temporarily extended the validity periods of many Illinois drivers' licenses. In a current extension move, Illinois drivers' licenses, instruction permits and identification cards that have an expiration fate between January 1, 2020 and March 31, 2022 will continue to be valid until March 31, 2022. This does not apply to commercial drivers' licenses and commercial learner's permits, which will continue to expire during this period and must be renewed on schedule.
Honoring Dr. Martin Luther King Jr.
Today we pause to remember Reverend Dr. Martin Luther King, Jr. Our nation celebrates this National Holiday every year to show our reverence and respect for one of the United States' most iconic civil rights leaders. Dr. King's message of peace, love and forgiveness transcended race at a time of deep division in the United States. Dr. King fought for equality for all, enduring imprisonment, physical violence, and constant threats, but still carried on with his work. One of my favorite Dr. King quotes is, "Darkness cannot drive out darkness; only light can do that. Hate cannot drive out hate; only love can do that."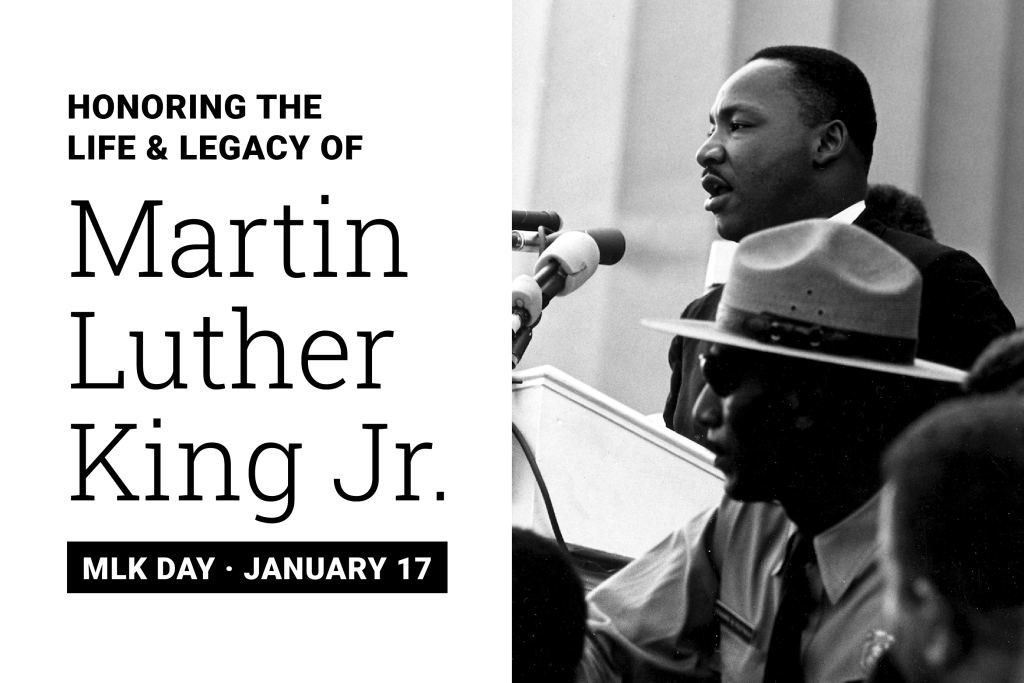 Stay Connected!
My office in Harrisburg can be reached at 618-294-8703 or you can reach me by email at Windhorst@ILHouseGOP.org. Check out RepWindhorst.com for more information or send me a message at RepWindhorst.com/contact.