Dear Friend,
This week's edition of the Windhorst Weekly takes an indepth look at several issues involving the SAFE-T Act, a sweeping criminal justice reform law you may have heard quite a bit about over the last year. Some of the more problematic parts of the new law will not take full effect until January 2023, but in recent weeks, the new law has garnered a lot of media attention.
Earlier this week, I joined Fox & Friends for an interview to discuss the potential impacts of the end of cash bail. Later on in the week I was a panelist on WTTW's Chicago Tonight, joining criminal justice reform experts for a detailed conversation about what is and what is not in the new law. At the end of last week, I was interviewed by KFVS-12 along with Johnson County Sheriff Pete Sopczak on the same subject. I have provided links for you to be able to watch these TV segments for yourself so you can be as informed as possible on the state of law enforcement and how it might impact you now and into the future.
It is my privilege to serve you as your State Representative. My office can be reached at (618) 294-8703 or you can email me at Windhorst@ILHouseGOP.org to express your opinions and concerns. Thank you for reading this week's Windhorst Weekly!
Rep. Windhorst Joins Fox and Friends for Interview on End of Cash Bail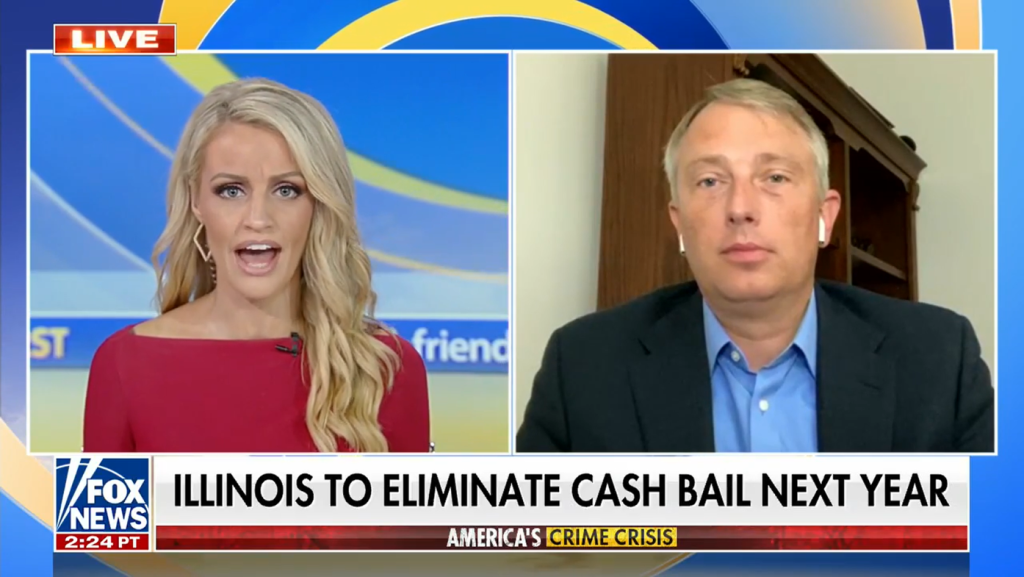 FOX NEWS – Illinois is set to eliminate cash bail beginning in 2023, becoming the first state in the country to do so and potentially allowing the release of violent offenders until they stand trial. 
Illinois State Rep. Patrick Windhorst (R), who voted against the measure, joined "Fox & Friends First" Tuesday to discuss the impact the policy will have on crime, citing some Democrats who even regret voting in favor of the bill already.
"I know several people who voted for it have had second thoughts and realized just what exactly this bill is going to do," Windhorst told co-host Carley Shimkus. "This was one provision in an over 700-page bill that passed in the waning hours of the last General Assembly, was really pushed through in the last few hours. So a lot of people who voted for it didn't realize what was in it."
"Unfortunately, we have not taken completely what the victims want and looking at what they may need to feel safe," he continued. "And instead, we're focused more on those who are committing the crimes."
The governor of Illinois, J.B. Pritzker, signed the Safety Accountability and Fairness Equity Today Act (Safe-T Act) last year, but the legislation is set to take effect on January 1 of 2023.
Illinois Gov. J.B. Pritzker attends the Idas Legacy Fundraiser Luncheon on April 12, 2018, in Chicago, Illinois. (Scott Olson/Getty Images))
The bill will also affect who can be arrested and expand eligibility for criminals vying for probation.
"My concern is this is going to have a tremendous impact on public safety and in a negative way, and is going to lead to more crime in our communities, particularly violent crime," Windhorst said. "We've seen some versions of bail reform in Illinois over the last four or five years, and what's occurred when those went into effect is crime has gone up over that period of time."
"Cook County, which houses Chicago, has its own version of bail reform in that county, and again, we've seen an increase in crime in the last several years in Cook County," he continued. Video
Windhorst warned the new law will impact everyone as violence surges in areas within the state, prompting many businesses to flee in search of safer communities.
"It's going to impact everyone from the top to the bottom of the state," Windhorst said. "And beginning January 1st, I believe it is going to get worse."
"Crime in Illinois from the mid-1990s and mid 20 tens was declining," he continued. "The violent crime rate decreased by about 50%. In the last five or six years, crime has gone up and a lot of it has to do with these reform efforts that are just too much, too soon."
Watch the interview here! https://www.foxnews.com/media/illinois-lawmaker-dems-regret-voting-end-cash-bail-much-soon
Rep. Windhorst Joins WTTW Chicago Tonight Discussing Provisions in SAFE-T Act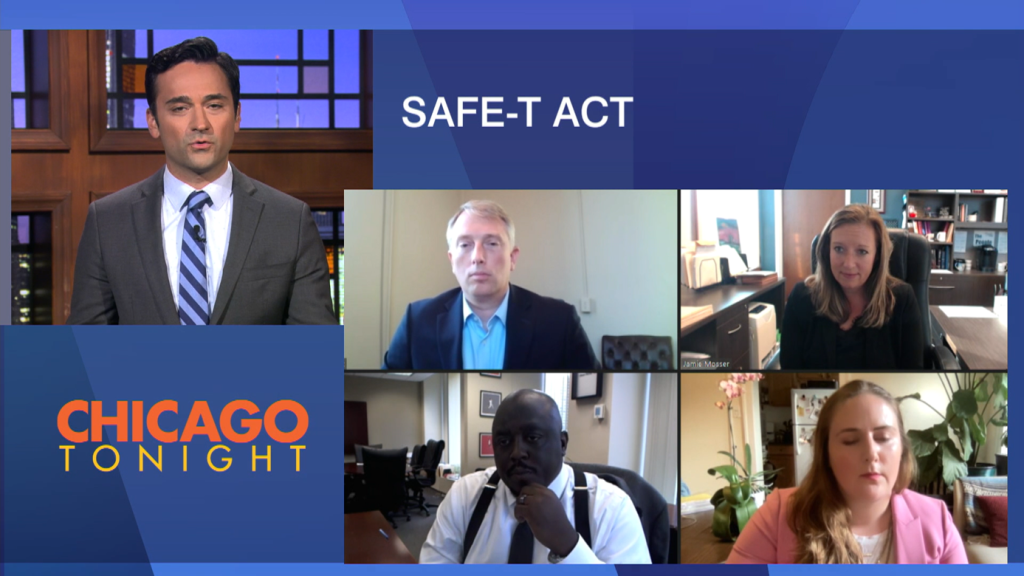 Watch the entire segment here: https://news.wttw.com/2022/09/14/illinois-safe-t-act-becomes-campaign-issue-what-does-it-actually-do
KVFS 12: Windhorst: Elimination of cash bail will put dangerous criminals back on our streets
During the final hours of the 2021 lame duck session of the 101st General Assembly, Illinois Democrats rammed through anti-police, pro-criminal legislation under the cover of darkness.
The Democrats' so-called "SAFE-T" Act (HB 3653, PA 101-652) contained many controversial provisions that make extensive changes to Illinois' criminal justice laws. The legislation abolishes cash bail, makes it more difficult for prosecutors to charge a defendant with felony murder, adds further requirements for no-knock warrants, gives judges the ability to deviate from mandatory minimum sentencing requirements, makes changes to the "three strikes" law, and decreases mandatory supervised release terms, among other changes.
One of the most controversial aspects of HB 3653 was the numerous changes and additional requirements it places on Illinois' law enforcement officers. The legislation mandates body cams be worn by all officers, creates a new felony offence of law enforcement misconduct, creates an anonymous complaint policy, and makes changes to use of force in making arrest, duty to render aid and duty to intervene. The bill makes significant changes to the law enforcement officer certification and decertification process, including the creation of a new Law Enforcement Certification Review Panel.
House Bill 3653 was approved by the Illinois House on January 13, 2021 by the bare majority of 60 votes (60-50-0), with only minutes to spare before the clock struck to end the 101st General Assembly. It was strongly opposed by Illinois' law enforcement community, including the Illinois Sheriffs' Association, the Fraternal Order of Police, and many State's Attorneys from across the state. Citing serious concerns about both the content and the process by which the bill passed, House Republicans voted unanimously against the measure. The legislation had passed the Illinois Senate in the early hours of the final day of the 101st General Assembly on a vote of 32-23-0. Governor Pritzker signed the bill into law on February 22, 2021.
On January 1, 2023, the State of Illinois will eliminate its cash bail system. Starting next year, Illinois' non-detainable offenses will include: aggravated battery, aggravated DUI, aggravated fleeing, arson, burglary, intimidation, kidnapping, robbery, 2nd-degree murder, and threatening a public official.
Representative Patrick Windhorst, who previously served for 14 years as State's Attorney for Massac County, strongly argued against the controversial provisions of the Democrats' criminal justice legislation when the bill was passed in 2021. This week, Windhorst again spoke out against the pending elimination of cash bail.
"I believe the elimination of cash bail, particularly as it's written in the SAFE-T Act, will reduce public safety and lead to more crime particularly more violent crime in Illinois," Patrick Windhorst, former state's attorney and current state representative for district 118, said.
Windhorst said he voted against this bill when it came about. He said he was one of the leading voices against it. […]
Representative Windhorst listed some of the offenses that won't involve detention before going to trial.
"So there are a whole list of violent crimes, burglary, robbery, arson, kidnapping, almost all drug offenses even drug distribution, DUI offenses, even DUI offenses that are involving a fatality, that do not qualify for detention under the Illinois Safety Act. To me, that's going to mean a lot of individuals are committing crimes and being released immediately, if not within a couple of days," he said.
Illinois is the first state in the country to abolish cash bail.
Learn more by watching coverage by KFVS-12 at the following link: Illinois set to eliminate cash bail in 2023 (kfvs12.com)
###
Press Release: Representative Windhorst Named to State Opioid Remediation Advisory Board
METROPOLIS – State Representative Patrick Windhorst (R-Metropolis) announced this week that he's been appointed to serve on the Illinois Opioid Remediation Advisory Board. The advisory board was created by an Executive Order regarding the administration of settlement proceeds received from Illinois' opioid litigation and creating the Illinois opioid remediation advisory board and the Office of Opioid Settlement Administration.
"The opioid epidemic has had severe negative impacts on the communities, neighborhoods, families, and residents of Illinois in every community," Windhorst said. "Now that settlements have been reached with major opioid distributors and manufacturers, it is up to the State of Illinois to properly and fairly distribute funds to communities that are due these funds."
According to Executive Order 2022-19 the Opioid Remediation Advisory Board will seek to ensure an equitable allocation of resources to all parts of the State, including, but not limited to, taking into consideration population as well as other factors relevant to opioid abatement, including rates of Opioid Use Disorder, Overdose Deaths, and amounts of opioids shipped into each region as measured in Morphine Milligram Equivalents and shall advise the Committee regarding the highest and best use of the Fund monies to prevent opioid dependency and promote recovery. For this purpose, the Office shall engage technical service providers to engage individuals with lived expertise, subject-matter experts, and other interested parties to develop a comprehensive plan, for consideration, to address opioid abatement.
The Executive Order establishing the Office of Opioid Settlement Administration can be found by clicking here.
State Representative Patrick Windhorst Completes Regional Leadership Institute
METROPOLIS – State Representative Patrick Windhorst (R-Metropolis) was among 38 select lawmakers to complete a leadership training program that identifies and assists emerging state and provincial leaders in the Midwest.
Representative Windhorst met with fellow lawmakers from Illinois, 10 other Midwestern states and three Canadian provinces on August 27-31 in Madison, Wisconsin for The Council of State Governments' 27th annual Bowhay Institute for Legislative Leadership Development (BILLD).
"The Bowhay Institute is one of the premier leadership training programs in the nation," says Iowa Sen. Amy Sinclair, who serves as co-chair of the institute's steering committee. "The legislatures in the region have benefited greatly from the skills their members have gained through this unique educational experience. Many of the graduates now hold leadership positions in their states."
Since 1995, more than 900 lawmakers have graduated from the Bowhay Institute. State legislators from Illinois, Indiana, Iowa, Kansas, Michigan, Minnesota, Nebraska, North Dakota, Ohio, South Dakota, and Wisconsin are chosen to participate through a competitive, non partisan selection process. Members of the Alberta, Manitoba, and Saskatchewan legislative assemblies are selected by their caucuses to take part in the program.
A program of The Council of State Governments' Midwestern Office, the 2022 BILLD program included courses and seminars conducted by policy experts, Midwestern legislative leaders, and professional development trainers. In addition to a curriculum designed to develop leadership skills, the program analyzed a variety of public policy issues, including the economy, trade, and energy policy.
"It was an honor to attend the Bowhay Institute for Legislative Leadership Development. Every legislator who attends this program helps with the Council of State Governments' mission to assist and advance the interests of state governments across the country," Windhorst said. "The program was informative and helped me gain a wide variety of information, ideas, and points of view from legislators serving throughout the Midwest."
The program is funded through grants from foundations, organizations and corporate sponsors, as well as in-kind contributions provided by The Council of State Governments' Midwestern Office.
The Bowhay Institute for Legislative Leadership Development is named in honor of the late James Bowhay, longtime director of The Council of State Governments' Midwestern Office. Founded in 1933, The Council of State Governments has national headquarters in Lexington, KY., and regional offices in Atlanta, Chicago (Lombard), New York City and Sacramento, California. The goal of the national, nonpartisan organization is to assist and advance state government.
Illinois EPA Awards 118th District Municipalities Over $2 million in Low Interest Loans for Clean Drinking Water and Wastewater Systems
METROPOLIS – State Representative Patrick Windhorst (R-Metropolis) is notifying residents of more than $2 million in low interest, partially forgivable loans from the Illinois EPA for municipal wastewater, drinking water, and storm water management projects coming to municipalities in the 118th district.
"I am happy to share the news that the State of Illinois' Environmental Protection Agency will assist several local governments within the 118th district with low-interest, partially forgivable loans," Windhorst said. "These dollars will help ensure our residents receive the clean, safe drinking water they deserve and that our municipalities can keep up with ongoing maintenance needs and keep up with new technologies."
The Village of Ridgway in Gallatin County will receive $231,988.50 with $104,394.25 of the loan being forgivable. The Village will install sewers, line approximately 101 manholes, and include other necessary appurtenances. These projects will make needed improvements to the Village's collection system to continue providing proper wastewater treatment for customers.
In Gallatin and White Counties, the Gallatin-White Water District will receive $299,180.31 with $149,590.16 to install 560 water meters, update billing and software, and purchase meter reading equipment and other related appurtenances.

These projects improve the District's water distribution system infrastructure to continue to provide a safe
and adequate supply of drinking water to customers.
In Hamilton county, the Village of Broughton will receive $454,745.10 with $227,372.55 forgivable to will replace watermains with polyvinyl chloride (PVC) pipe and install new valves, fire hydrants, water service lines, and all associated appurtenances. The existing distribution system is 50 years old and constructed of asbestos cement pipe.
Many of the old valves throughout the service area are not in working order and large areas of water service must be shut off when repairs are necessary.
"I am grateful to the hard working folks in our communities that dedicate themselves to ensuring clean drinking water, and reliable and efficient storm and sewer systems for our cities and villages. These investments are truly appreciated," Windhorst said.
Egyptian Health Department Breaks Ground on new I-HUB Project
I was thrilled to attend a recent groundbreaking for a new facility being offered by the Egyptian Health Department.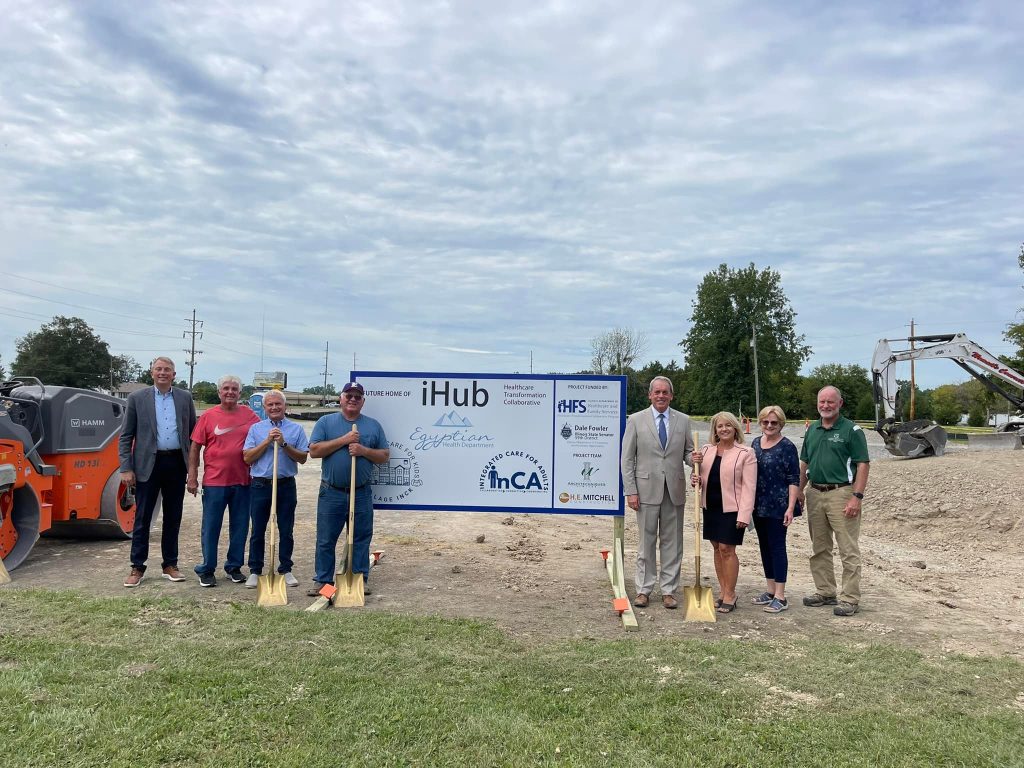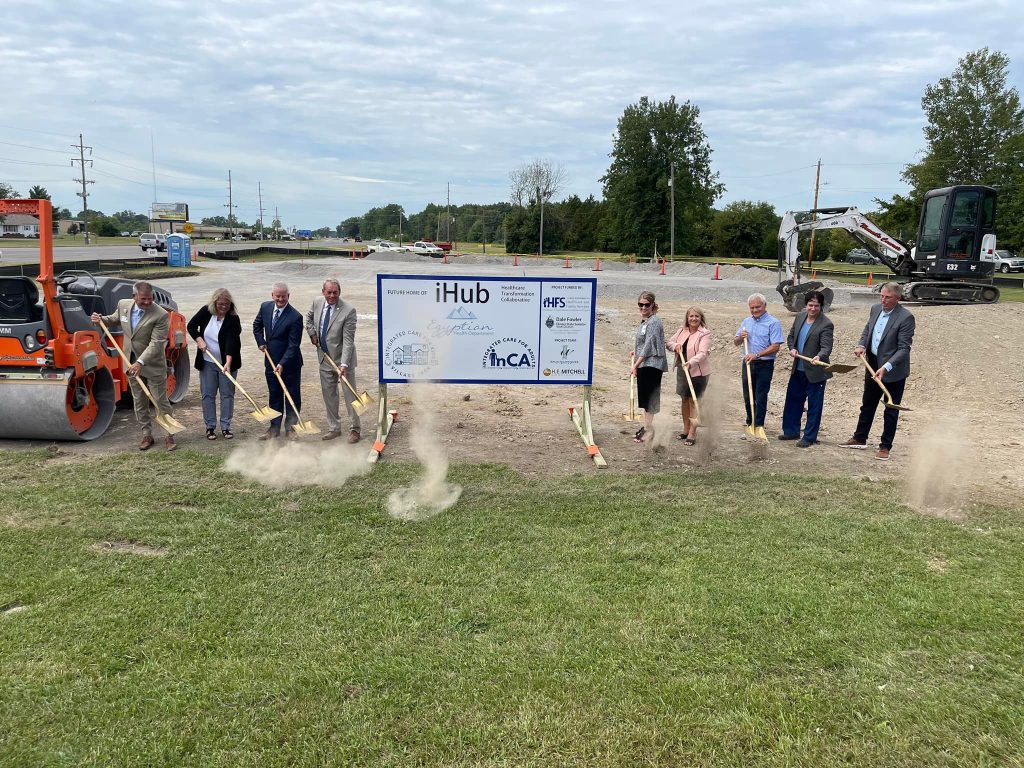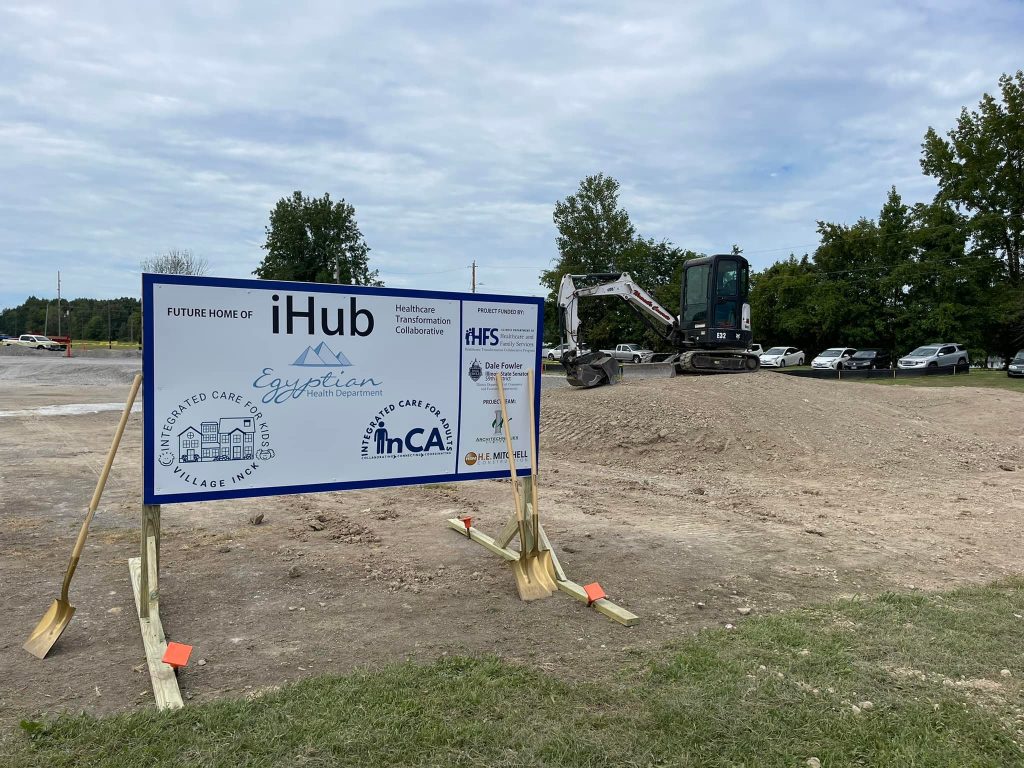 The iHub will be an innovative space that will provide a shared office for the Integrated Care for Adults (InCA) and Integrated Care for Kids (Village InCK) teams within in the department. According to it's recent Facebook post, both teams will focus efforts and activities on issues driving health disparities and addressing equity challenges in our community to ensure social determinants of health are addressed and appropriate care coordination support is deployed.
The iHub is being funded jointly by the Illinois Department of Healthcare & Family Services through the Healthcare Transformation Collaboratives program and a grant secured through the Illinois Department of Commerce and Economic Opportunity.
Stay Connected!
My office in Harrisburg can be reached at 618-294-8703 or you can reach me by email at Windhorst@ILHouseGOP.org. Check out RepWindhorst.com for more information or send me a message at RepWindhorst.com/contact.