Dear Friend,
This week is known in Springfield as 3rd Reading Deadline Week! What does that mean? Well, it means that as the House Republican Floor Leader, I'll be questioning the sponsors and directing House floor debate on literally hundreds of bills that are moving through the legislative process.
So far this year, very few pieces of legislation that have been brought forward by House Republicans have been allowed a Committee hearing, and even fewer have been passed on to the floor for debate and action. However, I am happy to report that I was able to pass legislation over to the Senate yesterday. I'll have that press release, as well as information on Back to Business Grants and more in this edition of the Windhorst Weekly. Thank you for reading!
Rep. Windhorst Legislation to Prevent Recalling Disabled Police Officers to Service Clears Illinois House
SPRINGFIELD – State Rep. Patrick Windhorst (R-Metropolis) reports legislation he sponsored aimed at helping retired disabled police officers has passed the Illinois House of Representatives.
HB 2390 would prevent disabled retired police officers that have reached the age of 60 from being recalled to work. Under current law, a police officer on disability can be recalled to duty at any age. Windhorst says the bill prevents a deputy sheriff or police officer who is retired for disability and is 60 years old or older may not be recalled to service in any capacity.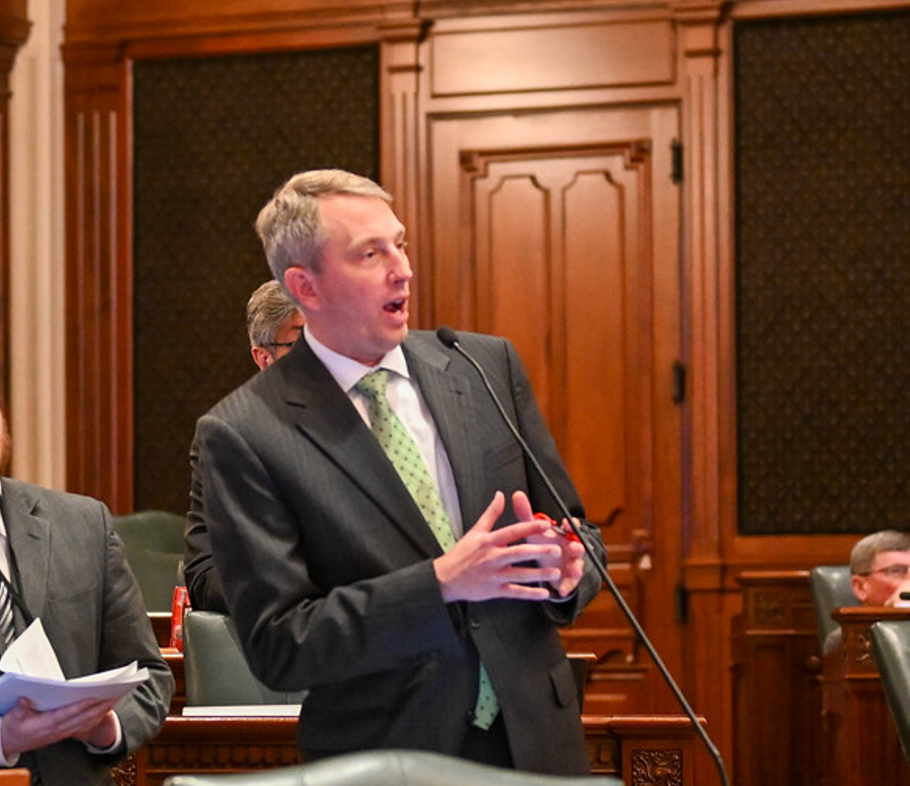 "I am grateful to my House colleagues for the overwhelming support they showed for this legislation," Windhorst said. "I have been committed to doing everything that I can as a legislator to express appreciation to police officers and sheriffs that have served our communities for years, sacrificing their lives and putting their bodies on the line. We should not be forcing anyone that has been disabled and even if they are now recovered, to return to the very dangerous work that police officers do after the age of 60. I appreciate our police, and if someone wishes to return to work, they still could. But my legislation would prevent the mandatory recall of these retired officers back into service."
Having passed the House, HB 2390 moves to the Illinois Senate for consideration.
Back to Business Grants Available from DCEO
Through the Back to Business (B2B) program, the State of Illinois is offering $175 million in grants for businesses in industries hardest-hit by the pandemic, specifically, restaurants, hotels and businesses in the creative arts industry. Applications are open from April 5, 2023 – May 10, 2023. Information on how to apply is listed below. To learn more about B2B and Business Interruption Grant Programs, visit Illinois.gov/B2B
Back to Business (B2B) Grants for Creative Arts, Hotels & Restaurants
The Back to Business (B2B) grant program provides recovery grants for businesses in the hardest-hit industries. Through the state's B2B and Business Interruption Grant (BIG) Programs, DCEO has provided more than $535 million to more than 15,000 businesses since the start of the pandemic.
Eligible restaurants, hotels and creative arts businesses are eligible to apply for $175 million in available grant funding as part of our efforts to support ongoing recovery in hard-hit industries. All applicants will receive a grant as long as they meet eligibility requirements, submit proper documentation and attestations required by the program.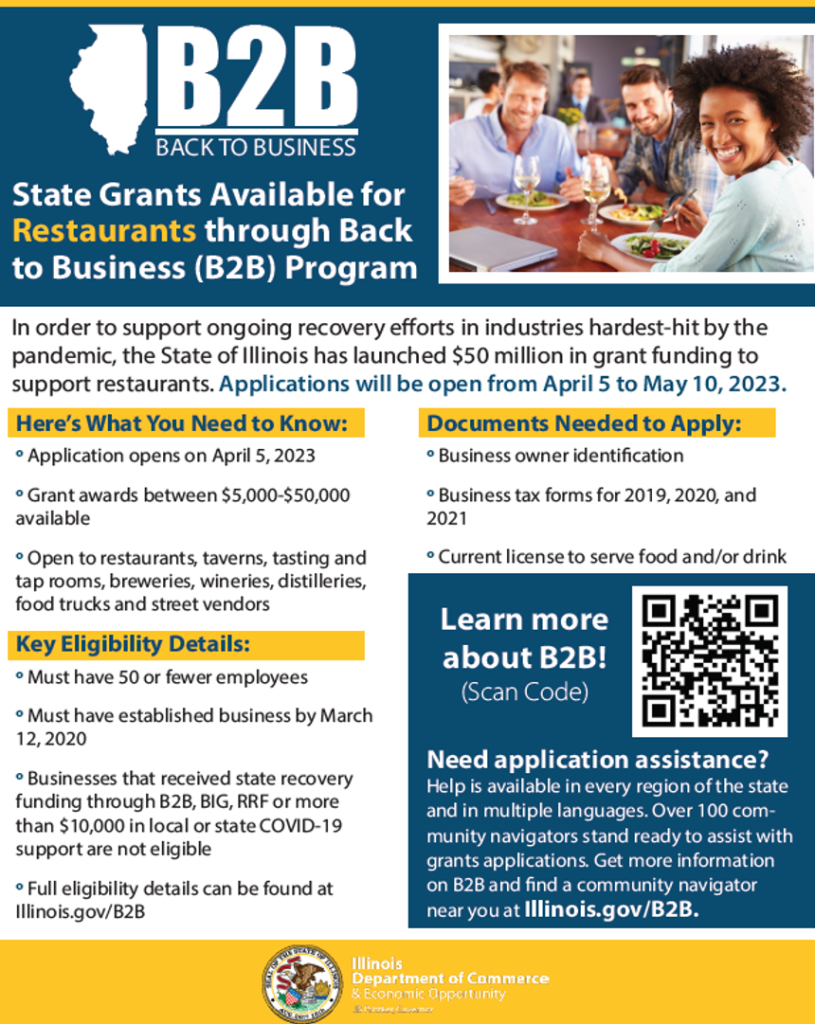 The program design for B2B Restaurants, B2B Hotels, and B2B Arts, respectively, are based on legislation which established the Restaurant Employment and Stabilization Grant Program (20 ILCS 605/605-1100), Hotel Jobs Recovery Grant Program (20 ILCS 605/605-1095), and the Illinois Creative Recovery Grant program (30 ILCS 709/40).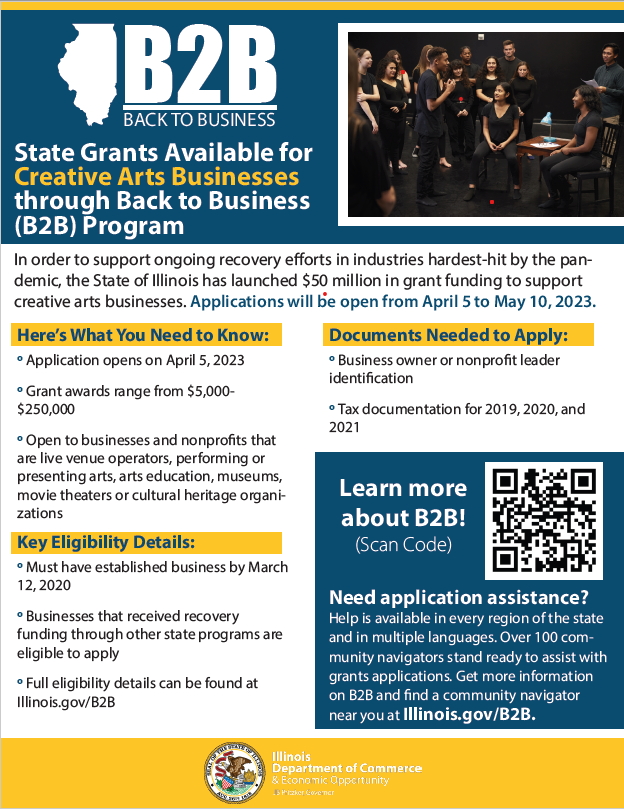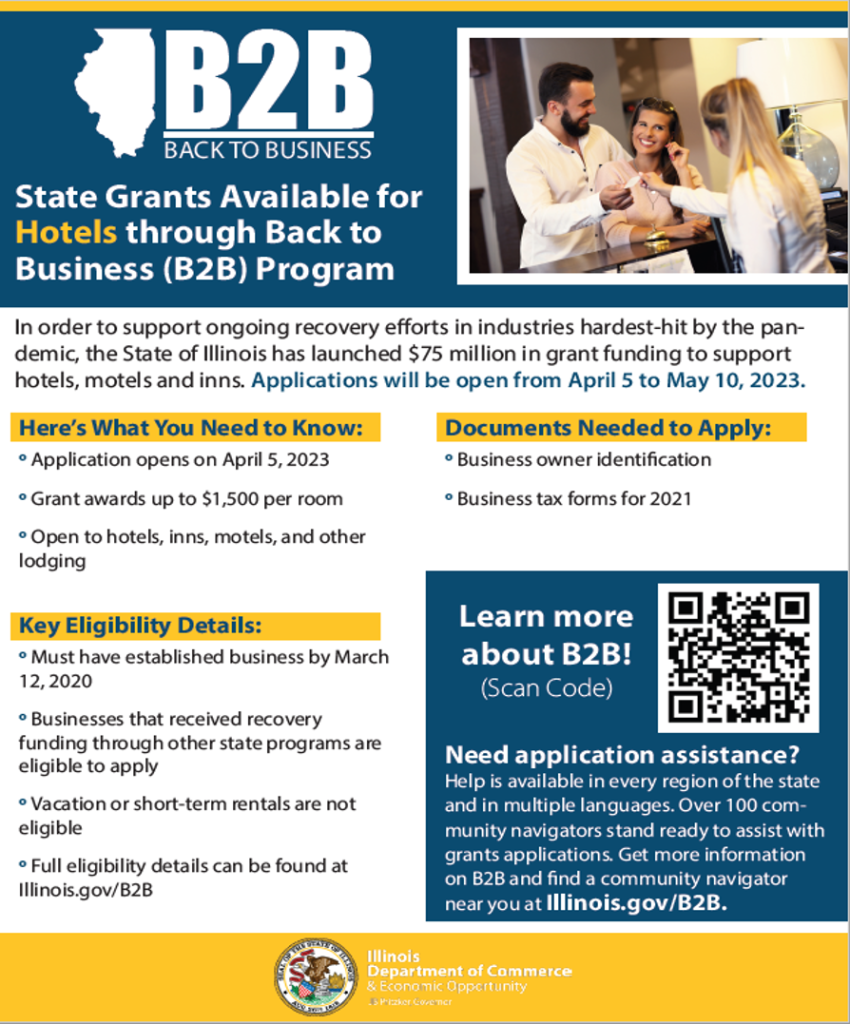 Applications will be open between April 5th and May 10th, 2023. DCEO encourages applicants to familiarize themselves with program eligibility requirements and reach out to local community navigators with any questions.
https://ilgrant.communitydevelopmentfund.org/submit
WalletHub Ranks Illinois Dead Last in Taxpayer Friendliness
According to a new study from the personal-finance website WalletHub. Illinois' combined state and local tax rate of nearly 15.1% is the highest among all 50 states and the District of Columbia. The dubious distinction comes at a time when Illinois is forecast to bring in billions in revenue above projected estimates, and underscores the urgent need for permanent tax relief. In Illinois, state and local tax payments by households making the median U.S. income amounted to $10,463, the highest amount in the nation.
When adjusted for cost of living, Illinois still ranks 47th on the list.
https://wallethub.com/edu/best-worst-states-to-be-a-taxpayer/2416
Stay Connected!
My office in Harrisburg is open Monday through Friday to serve the residents of the 117th district.
State Representative Patrick Windhorst
2 N. Vine Street, Suite 5A
Harrisburg, IL 62946
(618) 294-8703 – phone
Windhorst@ILHouseGOP.org – email
RepWindhorst.com – web