Dear Friend,
The Illinois House of Representatives is now just 14 short days away from its scheduled May 19th adjournment. Lawmakers have a lot of work left to do in a short amount of time. The House returns to action on Monday to begin the sprint to the finish of the spring session.
There was big news this week as the "ComEd Four" federal corruption trial ended in four guilty verdicts for the four former ComEd officials charged with bribing former House Speaker Michael J. Madigan.
I've got my reaction to that news, coverage of a press conference I was a part of this week to offer House Republican reaction, and information on upcoming satellite office hours locations being hosted by my office in June. That's all in this edition of the Windhorst Weekly! Happy Cinco de Mayo!
Rep. Windhorst Reacts to "ComEd Four"
Trial Guilty Verdicts
METROPOLIS – House Republican Floor Leader and State Representative Patrick Windhorst (R-Metropolis) reacted to the news of guilty verdicts handed down today by a Federal jury in the case of four former Commonwealth Edison executives accused of wrongdoing in a sweeping federal investigation into the corruption of former House Speaker Mike Madigan.
"I followed this trial closely and was disturbed at the casual nature with which ComEd officials corruptly attempted to influence former Speaker Mike Madigan. Mike Madigan is gone, but the stain left by his decades of corruption remains because we have not taken appropriate action to clean up our ethics laws. I have long sponsored legislation that would prevent legislators from serving as lobbyists, stop the revolving door, and allow Illinois' Legislative Inspector General the latitude it needs to issue subpoenas and stamp out corruption."
###
Rep. Windhorst to Host Traveling Office Hours in
Norris City and Shawneetown
117th district residents are invited to meet with myself or a member of my staff to connect with services and resolve constituent issues through the State of Illinois at upcoming Traveling Office Hours events in Norris City and Shawneetown. An RSVP is not required, but if you would like to set up an appointment, please call my Harrisburg office at (618) 294-8703.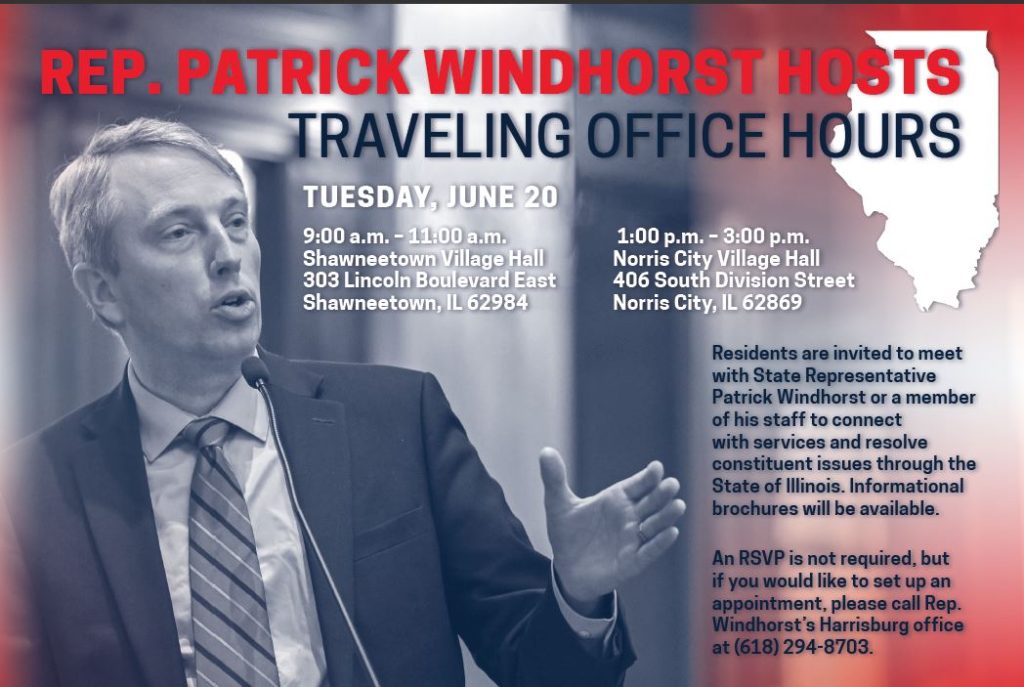 Join Rep. Windhorst's Summer Reading Program! Earn tickets for a special "Night at the Ballpark"

As your 117th district State Representative, I want to invite you to participate in my annual "Wild About Summer Reading" summer reading club. The summer reading club challenges 1st through 4th graders to read 8 books during their summer break. Books for local library programs are also acceptable and books over 150 pages may count for 2 books.
Those students who read EIGHT books this summer will receive an official Illinois House of Representatives Certificate of Recognition as well as a coupon for a free custard from Culver's, a coupon for donuts from Krispy Kreme in Marion, and two tickets (one for the reader, one for a parent/guardian) to a Thrillville Thrillbillies Prospect League baseball game at Mountain Dew Park in Marion in July 2023 for a special "Night at the Ballpark" celebrating summer readers.
Once a student completes the book reading, please fill out the form at my website and have a parent or guardian verify that the books were read. You can find the form at the link below.
Rep. Windhorst's Summer Reading Club – Patrick Windhorst (repwindhorst.com)
Stay Connected!
I am proud to offer services to my constituents through my offices in Harrisburg and Springfield. My new office in West Frankfort is currently being set up and will be opening for full service soon. I'll keep you updated when that happens. I am grateful for the honor to serve you! Please feel free to email me at Windhorst@ILHouseGOP.org or contact me using the contact form at my website located at RepWindhorst.com.
Harrisburg District Office
2 N. Vine St., 5A
Harrisburg, IL 62946
(618) 294-8703 – phone
Springfield Office
314 Capitol Building
Springfield, IL 62706
(217) 782-5131 – phone