Dear Friend,
This past Friday night was the scheduled adjournment of the Illinois House and Senate. Democrats currently have supermajorities in both chambers of the General Assembly, yet they have now blown past their self-imposed deadline to pass a budget and wrap up the session.
Dysfunction among Democrats and disagreement over spending priorities amid a shrinking revenue pie are contributing factors to the House and Senate missing the scheduled May 19 adjournment deadline.
Specifically at issue, however, is the exploding cost of Medicaid health care coverage for undocumented immigrants. Spending projections have grown from an estimated $200 million to more than $1.1 billion for undocumented immigrant healthcare coverage. The State of Illinois currently provides Cadillac health insurance coverage through Medicaid for all undocumented immigrants under the age of 18 and over the age of 42. A new proposal currently pending in Springfield would extend that same coverage to all undocumented immigrants aged 19-42, thus resulting in coverage for all undocumented immigrants of all ages.
This is an enormous policy shift that would potentially put Illinois taxpayers on the hook for tens of billions of dollars in spending over the coming years. When Illinois citizens are already taxed to the hilt, this is an irresponsible and unaffordable program expansion that I can and will not support. However, the fight between Democrats on how to pay for the program is a major underlying reason why the House and Senate have blown past their self-imposed adjournment deadline.
As the Illinois House Republican Floor Leader, I am engaged in the debate over nearly every piece of legislation that is debated in the House. As we head toward the end of May, the pressure on lawmakers to reach a budget deal will only grow. I will continue to keep you up to date on the latest news and notes from Springfield to the best of my ability until the House and Senate finally adjourn. I've got more in-depth analysis on state budget pressures and more in this edition of the Windhorst Weekly. Thank you for reading!
HOUSE GOP LEADER GIVES BUDGET UPDATE
SPRINGFIELD….On the last scheduled day of legislative session in the Illinois House, and no news of a potential state budget agreement in sight, Minority Leader Tony McCombie released the following statement:
"We have made every effort to be at the table. Now, with extra days in the session schedule we will continue to make ourselves available. There is much to accomplish and too much on the line to disregard our caucus from this process. "We want to govern, so I say it again: don't disregard our value."
###
MORE BUDGET BACKGROUND
Governor's Office revises FY23 revenue numbers sharply downward. The revision came in the monthly report that is required by law to be presented by the Governor's Office of Management and Budget (GOMB) to the Legislative Budget Oversight Commission. By statute, the Oversight Commission oversees compliance by the executive branch with the budgets enacted by the General Assembly. In April 2022, the legislative branch enacted a budget for FY23 (the 12-month period starting on July 1, 2022, and ending on June 30, 2023) that was believed at the time to be in surplus.
The General Assembly's budget-monitoring arm, the Commission on Government Forecasting and Accountability (CGFA), has already warned that Illinois' FY23 tax revenues are falling far short of projections. Tax payments made to the Department of Revenue (IDOR) in the key tax payment month of April 2023 generated disappointing numbers. Now, GOMB has updated its April 2023 and FY23 numbers to reflect these tax shortfalls. The gap is a massive one. For example, GOMB had expected that, for April 2023, the State would receive individual income tax payments of $3.77 billion. In reality, the State received only $3.13 billion from this source in April 2023, leading to a shortfall of $637 million for the month. Corporate income tax payments and sales tax payments also fell short of expectations in April.
The GOMB report confirms that sharp, bipartisan action will be necessary if the General Assembly is to maintain its constitutional responsibilities and enact a balanced budget for the approaching FY24. With many facets of the global economy slowing down, money is coming in well below projections, and this is not a problem that going to go away. At the same time, many Democrats in Springfield are pushing for new spending programs and more generous funding for existing programs. The balanced annual Illinois State Budget is a Constitutional requirement set forth in Section 2 of Article VIII of the Illinois Constitution.
As Republicans push back against ballooning costs associated with free health care for undocumented immigrants, Democrats shut Republicans out of budget talks. The Medicaid-style health benefits program for undocumented immigrants now costs $1.1 billion, which is $880 million more than had been previously projected by the Illinois Department of Healthcare and Family Services (DHFS).
Within the terms of this controversial program, Illinois has repeatedly expanded taxpayer-funded health benefits for undocumented immigrant adults. The current program covers all adults in these categories who are aged 42 and up. These adults are covered in age groups aged 42 to 54, aged 55 to 64, and those aged 65 and up. Immigrant enrollees pay no insurance premiums or co-pays for this taxpayer-funded health benefits program.
Budget analysts say that the cost of this program, which has seen massive expansions in the Democrats' budgets as recently as April 2022, is now swallowing up almost all of the natural growth in resources enjoyed by the State sector of Illinois' overall public sector. Because this program is growing so fast, there is no additional money to deal with other urgent priorities. The Rules of the House and Senate chambers of the Illinois General Assembly provide for appropriations committees to meet, hear witnesses, discuss the budget issues facing Illinois, and allocate available money. In a series of moves associated with Illinois' current budget shortfall, and with the sharp cost pressures associated with undocumented immigrants and other needs, the hard numbers in the FY24 budget have been pulled out of the appropriations committees and moved behind the Democrats' closed doors.
Rep. Windhorst Supports Blue Collar Jobs Act Tax Credits for Construction Projects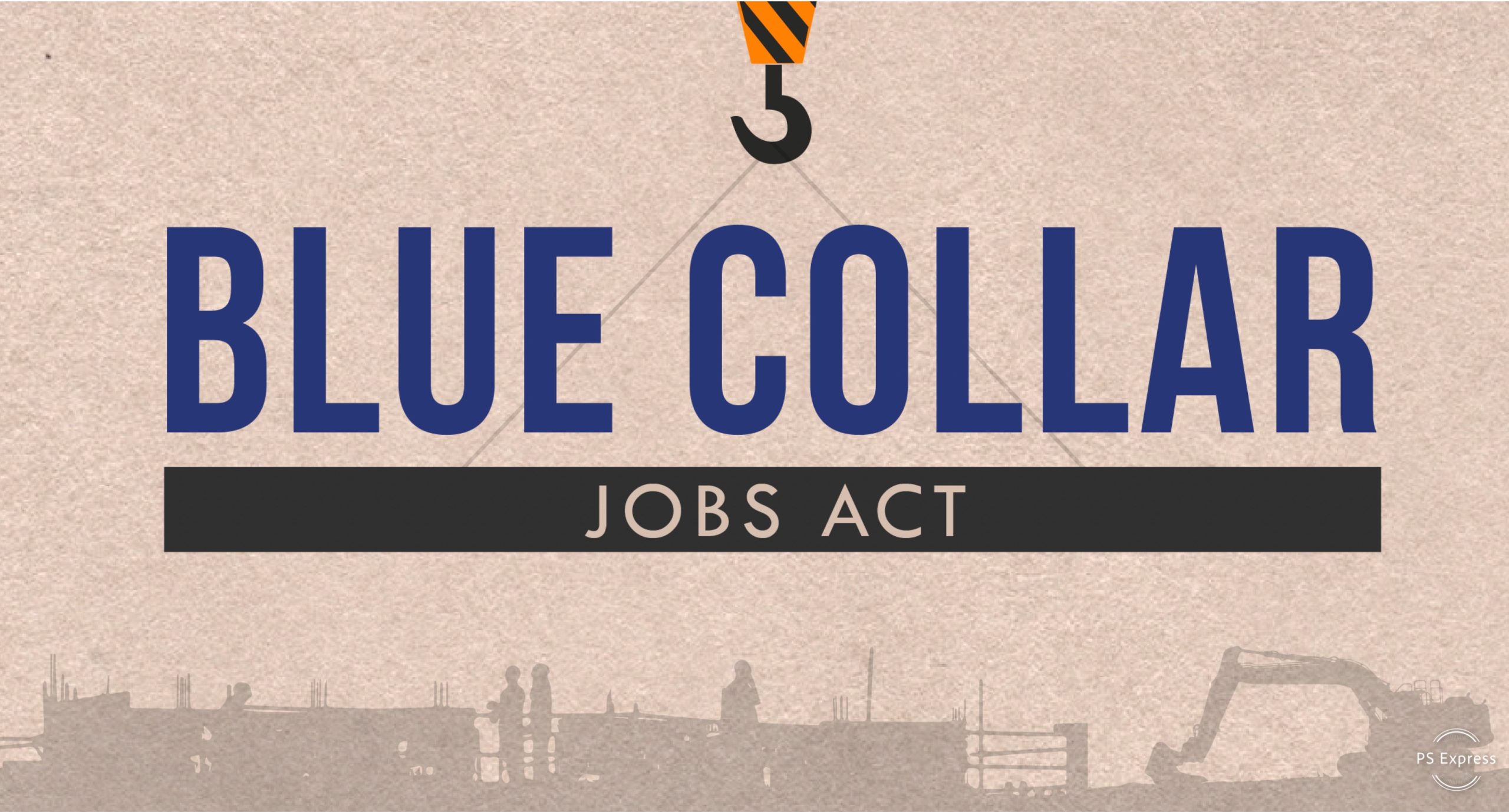 SPRINGFIELD – State Representative Patrick Windhorst (R-Metropolis) is notifying residents of the implementation of the long-awaited Blue Collar Jobs Act Tax Credits program. Windhorst was a co-sponsor of HB 3373 in the 101st General Assembly. The House Republican Floor Leader says the program makes $20 million in tax credits available every year for eligible companies that employ construction workers.
"I am happy to have been part of a bipartisan effort to incentivize businesses to invest in Illinois and locate good-paying construction and manufacturing jobs here," Windhorst said. "The implementation of the Blue Collar Jobs Act will help support construction projects and boost economic development in the state."
According to the Illinois Department of Commerce and Economic Opportunity (DCEO), eligible companies can receive tax credits equal to 75 percent of the income tax attributable to construction workers on eligible projects located in an underserved area, or 50 percent for projects located in other areas. The Blue Collar Jobs Act amended legislation for Illinois' premier incentive programs to provide tax credits attributable to the wages paid to construction workers on eligible projects. Eligible companies include those who are located in an Enterprise Zone (EZ) or a River Edge Redevelopment Zone (RERZ), companies designated a High Impact Business (HIB), or companies with an agreement under the Economic Development for a Growing Economy (EDGE) Program. Companies that completed construction projects in 2021 (the effective date of the legislation) or later are eligible to apply for credits.
"I want to encourage businesses that employ construction workers to explore the opportunity to take advantage of tax credits under this program," Windhorst said. "Resources are available through DCEO that can significantly assist in starting, continuing, and finishing major construction projects and employing hard-working Illinoisans."
DCEO will host a technical assistance webinar to share details regarding the BCJA program application and processes on Monday, June 26, 2023, from 1 p.m. – 2 p.m. Click here to sign up and RSVP; companies looking for information are encouraged to email ceo.bcja@illinois.gov or visit the BCJA website.
Rep. Windhorst to Host Traveling Office Hours in Norris City and Shawneetown
117th district residents are invited to meet with myself or a member of my staff to connect with services and resolve constituent issues through the State of Illinois at upcoming Traveling Office Hours events in Norris City and Shawneetown. An RSVP is not required, but if you would like to set up an appointment, please call my Harrisburg office at (618) 294-8703.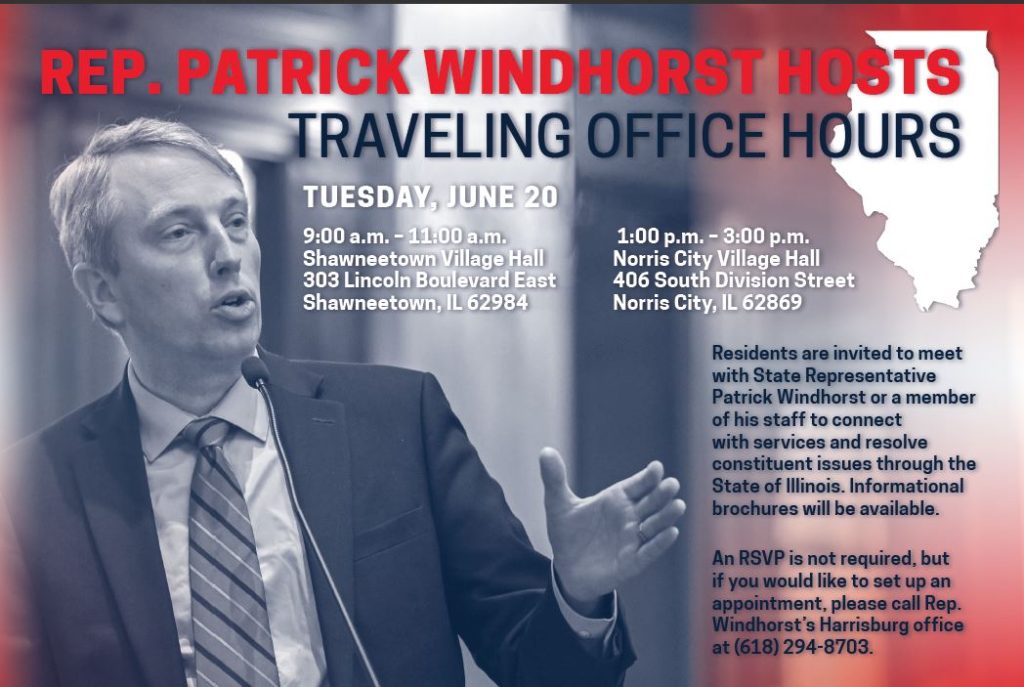 Join Rep. Windhorst's Summer Reading Program! Earn tickets for a special "Night at the Ballpark"

As your 117th district State Representative, I want to invite you to participate in my annual "Wild About Summer Reading" summer reading club. The summer reading club challenges 1st through 4th graders to read 8 books during their summer break. Books for local library programs are also acceptable and books over 150 pages may count for 2 books.
Those students who read EIGHT books this summer will receive an official Illinois House of Representatives Certificate of Recognition as well as a coupon for a free custard from Culver's, a coupon for donuts from Krispy Kreme in Marion, and two tickets (one for the reader, one for a parent/guardian) to a Thrillville Thrillbillies Prospect League baseball game at Mountain Dew Park in Marion in July 2023 for a special "Night at the Ballpark" celebrating summer readers.
Once a student completes the book reading, please fill out the form at my website and have a parent or guardian verify that the books were read. You can find the form at the link below.
Rep. Windhorst's Summer Reading Club – Patrick Windhorst (repwindhorst.com)
Stay Connected!
I am proud to offer services to my constituents through my offices in Harrisburg and Springfield. My new office in West Frankfort is currently being set up and will be opening for full service soon. I'll keep you updated when that happens. I am grateful for the honor to serve you! Please feel free to email me at Windhorst@ILHouseGOP.org or contact me using the contact form at my website located at RepWindhorst.com.
Harrisburg District Office
2 N. Vine St., 5A
Harrisburg, IL 62946
(618) 294-8703 – phone
Springfield Office
314 Capitol Building
Springfield, IL 62706
(217) 782-5131 – phone