Dear Friend,
This week in Springfield, the House moved a few bills from 2nd to 3rd reading, a procedural requirement for legislation that is poised to be debated and voted on. But, for the most part, legislative action was limited to Committees. However, I did sign on to one very important piece of legislation this week, a Resolution that opposes the 'graduated' income tax.
I began the week touring flood damage from the Ohio River in Metropolis and Cairo with Governor Pritzker, local elected officials, and officials from the Illinois Emergency Management Agency (IEMA).
To monitor information on local flooding, you can visit: https://water.weather.gov/ahps2/index.php?wfo=pah

Water levels are expected to continue to rise over the weekend and Southern Illinois is in the direct line of a winter storm that is expected to produce some accumulation of snow as well. Please, heed travel warnings this weekend and if you must drive, please travel with caution.
PRESS RELEASE: Windhorst Tours Flood Damage with Governor in Deep Southern Illinois
Metropolis…. State Rep. Patrick Windhorst (R – Metropolis) joined Illinois Emergency Management Agency officials and Governor JB Pritzker on Tuesday to tour flood damaged areas in deep Southern Illinois. Windhorst and Pritzker saw floodwaters up close and personal in Metropolis and Cairo as well as rural areas in the 118th district.
"Flooding is a major challenge for those of us living in Southern Illinois," Windhorst said. "The amount of precipitation in the Ohio River basin over the last several months has resulted in rising river levels in our region and flooding for many of our residents. The crest is expected to be among the highest on record, but from what I learned today, property damage to this point has been limited to the dozens, rather than the thousands of houses and residents."
Windhorst vows to continue to monitor the flooding situation and to stay in close contact with IEMA officials.
"This may be an ongoing issue year after year, as we indeed live in the flood plain of two large rivers," Windhorst said. "But, every time that Southern Illinois faces one of these disasters, I am amazed at the teamwork and the results that are produced when the local government units work together with each other and the public to keep people safe, to perform rescues, and to ultimately rebuild after damage occurs."
OPPOSING THE GRADUATED INCOME TAX HIKE – NO to the UNFAIR TAX
As I mentioned at the top, this week I signed on to sponsor HR 153. This measure states direct and total opposition to the Governor's plan to raise taxes on the middle class by instituting a "Progressive" or "Graduated" income tax. Some folks refer to it as the "fair" tax…but, the last time a State Representative introduced legislation to provide for a graduated income tax, the tax increases began for individuals making as low as $17,000 per year. There is NOTHING "fair" about a proposal to hike taxes on everyone from the lowest earners to the highest.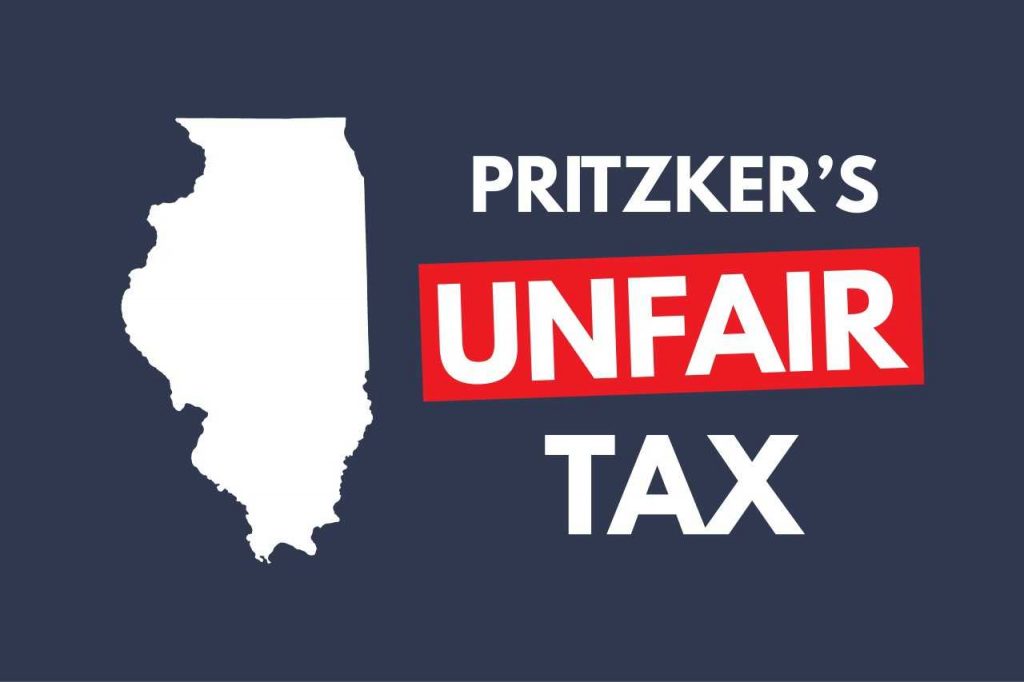 The appetite for tax revenue to expand the size of government in Illinois is very strong among the powerful Chicago Democrats that preside over super majorities in the House and Senate and control all six Constitutional offices (including Governor).
The correspondence I am receiving from my constituents strongly indicates that Southern Illinois is opposed to a progressive income tax hike. I will continue to speak out loudly against expanding the size of government, and I will not be voting for any proposal that raises income taxes.
Stay Connected!
My office in Harrisburg is located at 2 N. Vine Street, Suite 5A. You can call any time Monday through Friday 8:30 a.m. to 4:30 p.m. at 618-294-8703 or you can send me a message through the Contact form at RepWindhorst.com.