Dear Friend,
Last week was among the busiest news related weeks since the 2019 spring Session adjourned. In addition to a full schedule of events, there was also news to report on the legislative front. This week's Windhorst Weekly will recap my appointment to the Illinois Forestry Development Council, a Senior Citizens Health Fair, my first bill being signed into law, my travels throughout the 118th district, and an upcoming Coffee and Conversation with Senator Fowler in Goreville on August 1. REMINDER: This coming Wednesday July 31 is the deadline to return completed summer reading club flyers to my office. Enjoy this week's e-newsletter!
Legislators Host Carbondale Senior Citizens Fair

Last week I was happy to join my fellow Southern Illinois legislators Senator Dale Fowler, Senator Paul Schimpf, and State Rep. Terri Bryant as we hosted a free Senior Citizens Health and Wellness Fair in Carbondale. More than 80 vendors were on hand to provide important health care and legal information to seniors. I want to thank our hard-working health care professionals for their dedication and service to the senior citizens of Southern Illinois. The event was a great success and I look forward to another terrific event next summer!
PRESS RELEASE: Rep. Windhorst Law will Strengthen Orders of Protection 118th District State Rep. Announces First Bill Signed into Law
Metropolis….State Representative Patrick Windhorst (R-Metropolis) received word late last week that legislation he sponsored in the 101st General Assembly's spring 2019 Session has been signed into law. Rep. Windhorst served as Massac County State's Attorney prior to serving as State Representative. Windhorst says he is happy to report the first bill he had signed into law is a victims' rights bill.
"I want to thank my colleagues in the House and Senate for advancing HB 2308 to the Governor's desk with unanimous support," Rep. Windhorst said. "This new law will strengthen orders of protection and better protect victims of domestic violence. I appreciate the Governor signing this important bill in to law."
Windhorst says HB 2308 allows a judge to prohibit a defendant from contacting victims or witnesses from jail while awaiting trial.
"Part of the reason for this change in the law is because inmates awaiting trial in county jails sometimes use their phone privileges to continue to harass their accuser. The goal of HB 2308 is to keep incarcerated offenders from being able to contact their victims while awaiting trial," Windhorst said. "We owe that to the victims of violent crime and domestic abuse. When someone comes to law enforcement asking for protection, they should be able to feel secure and be kept safe from their aggressor until the legal matter at hand is resolved."
PRESS RELEASE: Windhorst Appointed to Illinois Forestry Development Council
Metropolis….State Representative Patrick Windhorst (R-Metropolis) announced today that he has received an appointment to the Illinois Forestry Development Council by House Republican Minority Leader Jim Durkin. Rep. Windhorst's 118th district is home to almost every square mile of Illinois' Shawnee National Forest.
Windhorst thanked Leader Durkin for the appointment and pledged to work hard with all interested partners on forestry management and development.
"The Illinois Forestry Development Council is a vital body dedicated to the responsible use and preservation of Illinois' forests," Windhorst said. "I want to thank Leader Durkin for adding my name to the list of dedicated public servants currently working on the Council."
According to its website, the Illinois Forestry Development Council was created in 1983 upon passage of the Illinois Forestry Development Act (525 ILCS 15). The 29 members of the Council represent the following interests or groups: woodland owners, farmers, forest/wood products industry, urban forestry, environmental concerns, state and federal agencies, the General Assembly, and the Governor's office. The Council's charge is to identify and evaluate the social, economic, scientific, and educational value of Illinois's forest lands and forest products industries.
In addition to the members of the Council, several Task Groups work on projects and issues related to private and public woodland ownership, forest resource analysis, forestry outreach and education, legislation, long-range planning, timber marketing and promotion, and urban planning.
For more information, please visit: http://ifdc.nres.illinois.edu.
SUMMER READING CLUB DEADLINE – THIS WEDNESDAY JULY 31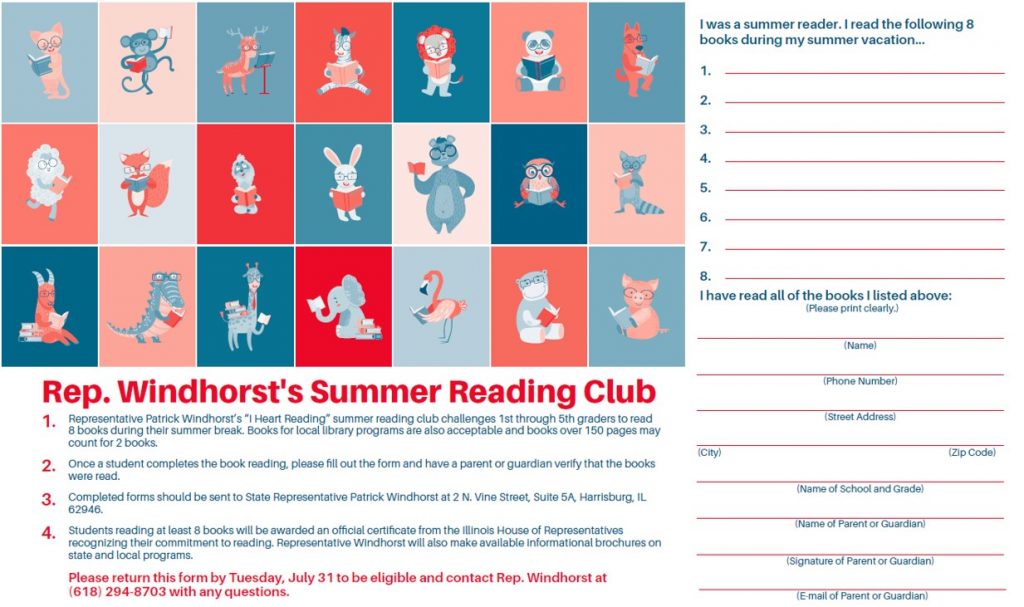 Coffee and Conversation in Goreville on August 1 with Senator Fowler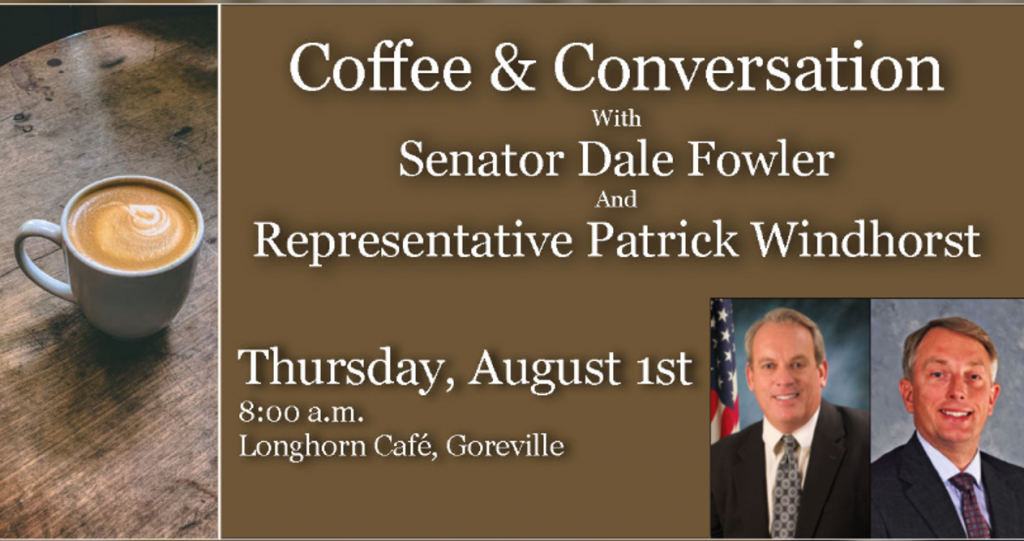 GOREVILLE….Rep. Patrick Windhorst and Sen. Dale Fowler will be co-hosting a "Coffee & Conversation" event next week in effort to continue building upon their active outreach programs throughout southern Illinois.
While both legislators have been routinely holding traveling office hours individually throughout their districts, this event is meant to provide some of their shared constituents an opportunity to meet with them both in a relaxed and conversational setting.
I always look forward to talking to people about whatever issues are on their mind and appreciate all of the local officials and business owners that help make events like this happen. Southern Illinois is home to many great people and this job reminds me of that every day, it is an honor to get represent our regional home in Springfield.
The joint "Coffee & Conversation" event will be held at the Longhorn Cafe in Goreville on August 1st. It is open to the general public and starts at 8:00 am, all questions regarding the event should be directed to Rep. Windhorst's district office @ (618) 294-8703.
IMA President Visits Southern Illinois to Highlight Business Reforms
Mark Denzler, President and CEO of the Illinois Manufacturer's Association, was in Carbondale at International Polymer Group last week to promote several key business reforms secured by House Republicans at the end of the 2019 spring Session. Mr. Denzler traveled throughout our region to highlight how small and large businesses alike will benefit from changes to Illinois' business climate.
In the waning hours of the 2019 spring Session, House Republican
leaders and rank-and-file Republican lawmakers demanded the
inclusion of key economic reforms. I voted to support SB 689, legislation that contains the language of these badly needed job creation reforms.
Key Business Reforms in SB 689 include:
Creation of the Blue Collar Jobs Act – which will attract large-scale construction projects.
Creation of a Data Center Tax Incentive – which will enhance the state's ability to locate data centers in Illinois by providing tax incentives.
Reinstatement of the Manufacturer's Purchase Credit to encourage further investments in manufacturing in Illinois.
Elimination of the antiquated Illinois Franchise Tax.
Elimination of cap on the Retailer's Discount.
Tabling of Senate Bill 1407 – a bill that aimed to impose wage and regulatory requirements on refineries, ethanol plants, and chemical facilities.
Employees and IMA Officials join State Reps. Bryant, Severin, and Windhorst at Intertape Polymer Group in Carbondale

Rep. Severin, Mark Denzler, Rep. Bryant and Rep. Windhorst at IPG

Rep. Windhorst addresses IPG Employees during the IMA Press Conference
Stay Connected!
My office in Harrisburg is open Monday through Friday 8:30-4:30. You can reach me by phone at 618-294-8703 or by emailing Windhorst@ILHousegop.org.