Dear Friend,
The 2019 Veto Session wrapped up Thursday evening, after a busy three days of action on new legislation.
Prior to heading to Springfield, I was honored to speak at the Galatia Veterans Day Ceremony on Monday. Thank you Galatia and thank you Veterans!
Before I recap the legislative action, I want to take a moment to congratulate the Class A State Softball Champion Goreville Lady Blackcats on a fantastic season.
I had the privilege of hosting the team in Springfield this week. The team gathered on the House floor prior to Session and I was fortunate to be able to honor and recognize the team during Session on Wednesday.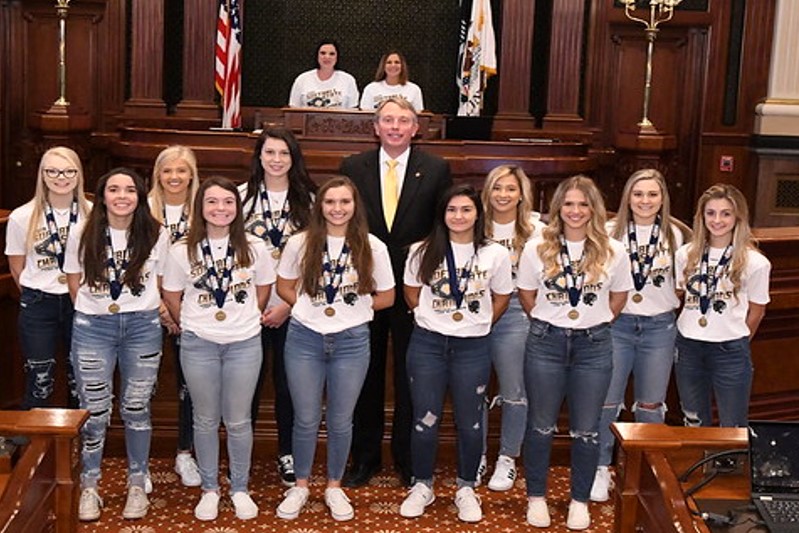 Springfield…State Rep. Patrick Windhorst (R-Metropolis) welcomed the Goreville High School Lady Blackcats Class A Softball Champions to the State Capitol in Springfield on Wednesday. The Lady Blackcats were presented with Official House of Representatives Certificates of Congratulations signed by the Speaker of the House and the House Clerk.
The Lady Blackcats compiled an outstanding 31-9 record and defeated Illini Bluffs in the championship game by a score of 4-2. The Lady Blackcats are coached by Head Coach Shanna Green, and assistant coaches Johnie Edwards and Molly Parrish.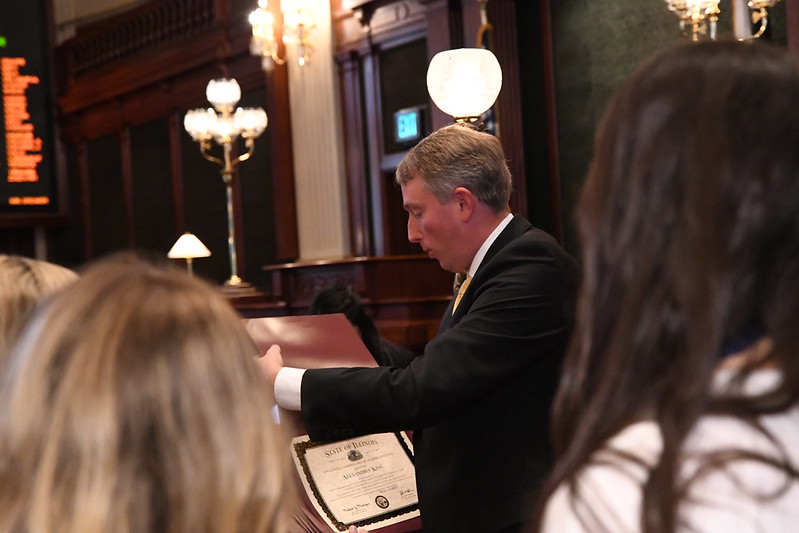 Springfield….State Representative Patrick Windhorst (R-Metropolis) sounded off after the adjournment of the 2019 Veto Session on Thursday, expressing his displeasure with a lack of action on a package of tougher ethics reforms he is sponsoring in the House. The 118th district State Representative is in his first-term, but says 2019 has taught him a lot and confirmed many of his suspicions about how business is conducted in Springfield.
"I'm a co-sponsor of more than a dozen bills that are aimed at tackling the real problem of lax ethics laws and corruption in our state," the Metropolis-based Representative said. "But, tough, common sense reforms seem to be like kryptonite to the Super Majority that controls Illinois government. I'm sponsoring revolving door laws, legislation that bans legislators from serving as lobbyists to the city of Chicago, and bills that require further transparency for lobbyists. I voted to support two bills today that I feel were terribly watered-down, but unfortunately presented the only opportunity for me to be on the record voting in favor of ethics reform."
Windhorst joined fellow Southern Illinois legislators in issuing a joint op-ed last week calling for the Veto Session passage of nine bills introduced during the Veto Session by House Republicans. What took place on the final day of the Veto Session, according to Windhorst, was a lame attempt by the House Democrats to dress up two feckless bills as reform.
"My colleagues on the Republican side of the aisle demanded parity, equality, and action on ethics reforms," Windhorst said. "What we got was smoke, mirrors, dogs, and ponies. That is not going to cut it. Offices are being raided, lawmakers are being arrested, and Speaker Madigan doesn't seem to get it. The IRS and the FBI get it. In the spring Session, we must tackle the issue of ethics reform head on. Let's end the self-dealing, let's deter corruption, and let's restore some faith in the General Assembly and in Illinois government. The majority can move very quickly when it wants to, and I urge quick passage of the House Republicans' ethics reform package when we return in January 2020.
House Republicans demanded the delay of a scheduled adjournment on Thursday evening so their ethics reform bills could be heard. On a recorded vote, House Democrats decided to adjourn and House Republicans voted to stay in Session. The House returns to action on January 28, 2020.
Springfield….State Representative Patrick Windhorst (R-Metropolis) cast an opposing vote on legislation that will combine police and fire pension system assets. Windhorst says the Veto Session did not provide adequate time to study legislation of such magnitude, and that the rushed process has led to a concerning lack of details.
Windhorst says his no vote on SB 1300 also represents the voices of police and firefighters in his district who contacted him overwhelmingly in opposition to the plan.
"The first responders from my district expressed serious concerns that this complex financial undertaking should not go forward without proper study or actuarial analysis," Windhorst said. "This plan will expose the $14 billion in combined police and fire pension assets to higher risks, which could lead to losses instead of gains. I am concerned at the lack of details that were provided to members on the long-term consequences of this measure."
Governor JB Pritzker announced he would sign the bill during a Capitol press conference on the final day of the Veto Session.
####
Stay Connected!
My office in Harrisburg is open Monday through Friday from 8:30 a.m. – 4:30 p.m. You can reach me any time by calling 618-294-8703 or contact me via my website at www.ilhousegop.org/contactwindhorst or by emailing Windhorst@ILHouseGOP.org
Get the Illinois House Republicans Week in Review emailed directly to your inbox! Sign up today to get a first-hand look at the continuing legislative and fiscal challenges facing policymakers in Springfield.