Dear Friend,
The Illinois legislature has adjourned the 2019 spring session following a blindingly fast and jam packed final 7 days. The Governor and members of Democrat party leadership in the General Assembly put off taking action on many of the Governor's main legislative priorities for months. Below is a quick recap of the items that were voted on in the final week of the Session and how I voted on them.
Doubling Gas Tax from 19 to 38 cents per gallon: NO.
Change Illinois' constitution to allow for a progressive income tax: NO
Record high $40.6 billion budget: NO
Legalizing recreational marijuana: NO
FOID Finger Printing and increased fees for law abiding gun owners: NO
Unrestricted, taxpayer funded late term abortions: NO
I didn't go to Springfield to take more money out of the pockets of hard working Illinoisans, families, and businesses. As an Illinois state official, I swore an oath to protect and defend your constitutional rights. To that end, I also stood up for 2nd Amendment rights and stood against efforts to make Illinois the abortion capital of the country.
WJPF Radio Interview – Session Recap
It was a pleasure as always to speak with Tom Miller this past Thursday morning. Tom asked a great question at the end of the interview about what my predictions were about how Springfield worked prior to taking office and what I eventually learned in this process. Click below to hear my answer to that question and my explanations for my no votes on the budget and gas tax increase, as well as my NO votes against radical gun control and abortion expansion bills.

https://www.wjpf.com/episode/newsradio-wjpf-interview-with-patrick-windhorst-10/
Finally, listed below is a quick rundown of the press releases that I issued in response to a few of the legislative items voted on during the final 7 days of the Session.
Windhorst Questions Process and Radical Policy Changes as Abortion Bill Advances

Rep. Windhorst Keeps Pledge, Votes No on Progressive Tax
Windhorst Joins House Republicans' Firm Opposition to Abortion Expansion Legislation
Windhorst Votes No on Gun Control Bill, Cites Unconstitutionality
Rep. Windhorst Calls on Democratic Super-Majority to Remove Legislators' Pay Increase from 2020 Budget
Metropolis….State Representative Patrick Windhorst (R-Metropolis) is expressing opposition to a $1,600 pay increase for legislators that was included in the 2020 budget currently waiting on Governor Pritzker's expected signature.
"The idea that any legislators deserve a pay raise, especially after what we saw during the last week of session, is absurd. The people of Illinois are hurting, and foolish actions like this continue to erode the trust between lawmakers and the constituents we are called to serve."
"Illinois law provides for legislators to receive cost of living pay increases as well as increases in mileage and per diem for session days every year," Windhorst said. "Since 2008, legislators have included language in the budget documents preventing those increases from going into effect. This year that language was not included. When the Senate discovered the increases were not prohibited, they passed separate legislation prohibiting the cost of living increase. The House adjourned Saturday without even considering that legislation."
In February Rep. Windhorst filed HB2965, a bill that would prevent legislators from accepting pay increases or increased reimbursement for mileage, lodging or meals. Rep. Windhorst's bill currently has the support of 43 of the 44 House Republican Members and one lone Democrat, Rep. Carol Ammons of the 103rd district. For HB2965 to move forward, Speaker Madigan would have to call legislators back into session and allow it to leave the Rules Committee for a vote. Governor Pritzker also had an opportunity to stop the $1,600 pay increase for lawmakers through an admendatory veto to the 2020 budget, but he declined to take that action.
Summer Reading Club
This summer, I will be promoting literacy and the importance of reading for enjoyment by hosting my first ever "I Heart Reading" Summer Reading Program! Challenges 1st through 5th graders to read 8 books during their summer break. Books for local library programs are also acceptable and books over 150 pages may count for 2 books.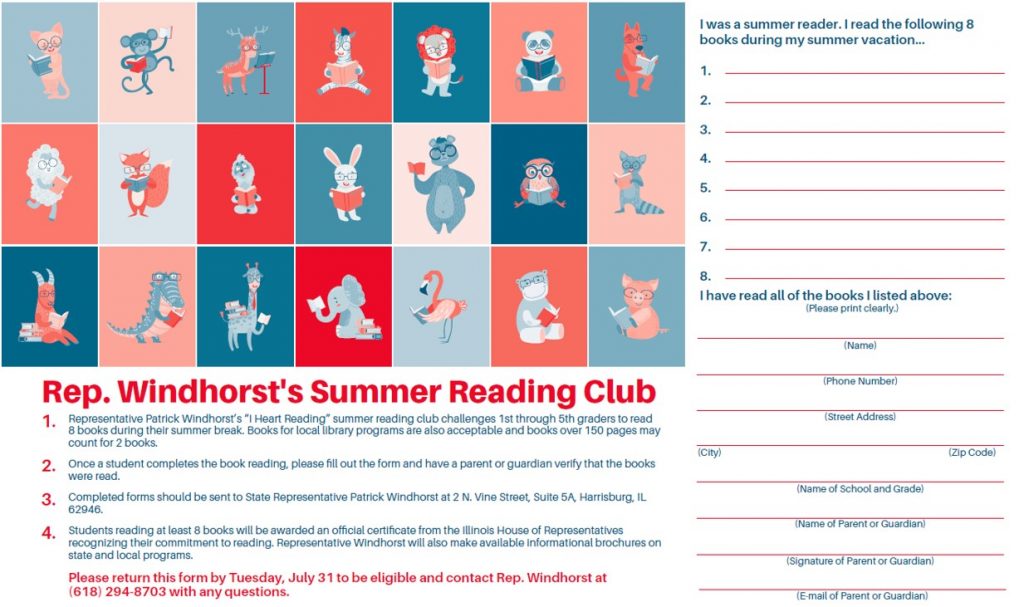 Once a student completes the book reading, please fill out the form and have a parent or guardian verify that the books were read. Completed forms should be sent to State Representative Patrick Windhorst at 2 N. Vine Street, Suite 5A, Harrisburg, IL 62946.
Students reading at least 8 books will be awarded an official certificate from the Illinois House of Representatives recognizing their commitment to reading. Please return this form by Tuesday, July 31 to be eligible and contact Rep. Windhorst at (618) 294-8703 with any questions!
Senior Citizen Health Fair in Carbondale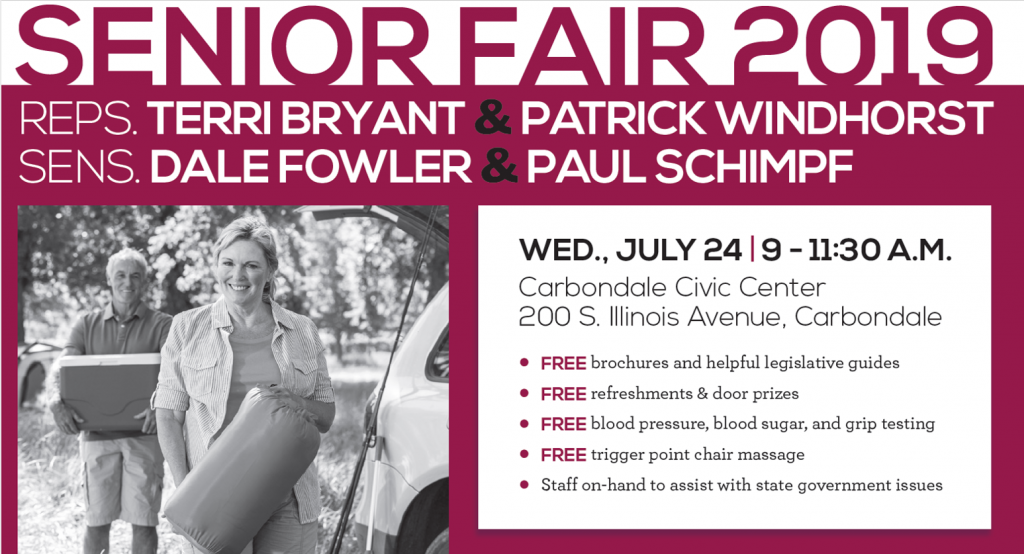 Stay Connected!
Get the Illinois House Republicans' Week in Review emailed directly to your inbox! Sign up today to get a first-hand look at the continuing legislative and fiscal challenges facing policymakers in Springfield.
My office in Harrisburg is located at 2 N. Vine, Suite 5A and is open from 8:30 to 4:30 Monday through Friday. You can reach my office at 618-294-8703.